Ravel, Dutilleux, Delage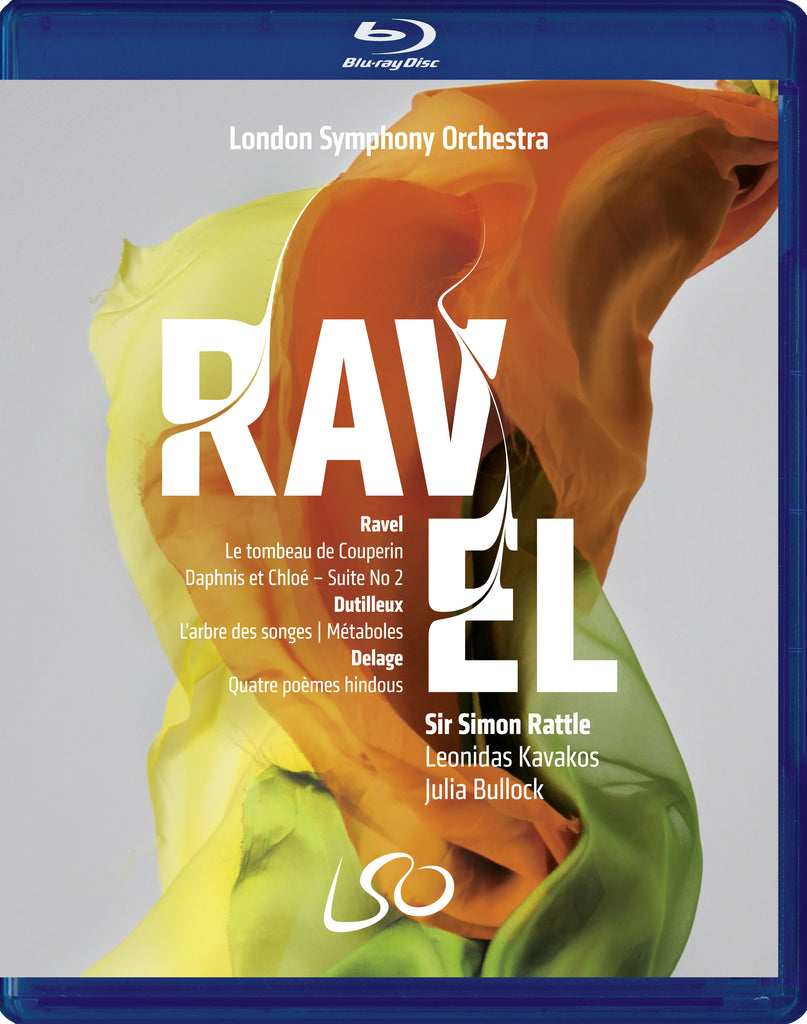 Catalogue Number LSO3038
UPC 822231303893

François-René Martin director Nicholas Parker audio producer
Filmed at the Barbican Hall, 13th January 2016

Format

Blu-ray + DVD | 2 disc standard Blu-ray case
Audio 2.0 stereo | 16 bit 48 kHz PCM
Notes in En, Fr, Ge
Total playing time: 95m 40s

**** 'This release is very impressive … beautifully filmed, with worthwhile bonus interview material.'
Classical Music

'Exceptional … [Sir Simon Rattle] remains a superb interpreter of 20th-century music.'
The Arts Desk

'Further evidence that the partnership of Sir Simon Rattle and the LSO is going to be formidable.'
MusicWeb International

***** 'What comes over is Rattle's love for the music and the orchestra's wholehearted response… an outright winner.'
BBC Music Magazine

Concert reviews

****'An all-French programme was played to perfection, with Leonidas Kavakos a superbly articulate soloist.'
The Guardian

****'Thrilling Rattle and virtuoso orchestra are perfect partners. Simon Rattle conducted the LSO in an innovative French programme that from first to last had the ring of authenticity.'
The Evening Standard

'Julia Bullock was ideally attuned to the sensual inflections of the vocal line [Quatre poèmes hindous] and Rattle ensured a thoughtful response from the dozen-strong LSO, sounding not all unfocussed in this acoustic.'
Classical Source
£14.99
Sir Simon Rattle
London Symphony Orchestra
Recorded in January 2016, this beautiful programme of French music was chosen by Music Director Designate Sir Simon Rattle and features world class soloists Leonidas Kavakos and Julia Bullock.
Book-ending this concert are two works by the master of orchestral texture, Maurice Ravel. First, Le tombeau de Couperin; an expertly orchestrated version of a 1914-17 piano piece that brings sharpness to the original's classical dance rhythms. The work calls for an oboe soloist of virtuosic skill, which is expertly handled here by LSO Principal Olivier Stankiewicz. At the other end, Rattle closed the concert with the popular second suite from Daphnis et Chloé.
Violinist Leonidas Kavakos presents his intepretation of Henri Dutilleux's violin concerto L'arbre des songes. Composed between 1983 and 1985, the title translates as 'The Tree of Dreams' and the work is based on a process of continual growth and renewal, as the composer explained: 'All in all the piece grows somewhat like a tree, for the constant multiplication and renewal of its branches is the lyrical essence of the tree.' Rattle also presents a second work by Dutilleux, 1964's Métaboles. 
Rounding out the programme, American soprano Julia Bullock shines in Maurice Delage's Quatre poèmes hindous. Written in 1912 for a chamber ensemble of two flutes, oboe, two clarinets, harp, and string quartet, this hidden gem has been described as 'one of the first attempts to introduce the melodic and rhythmic forms of Indian music to the language of Western music'.
| | | |
| --- | --- | --- |
| Composers |   | Ravel, Dutilleux, Delage |
| Conductor |   | Sir Simon Rattle |
| Soloists |   | Leonidas Kavakos, Julia Bullock |
| Performers |   | London Symphony Orchestra |
---
Track list
Ravel:
Le tombeau de Couperin, I. Prélude. Vif
Le tombeau de Couperin, II. Forlane. Allegretto
Le tombeau de Couperin, III. Menuet. Allegro moderato
Le tombeau de Couperin, IV. Rigaudon. Assez vif
Dutilleux:
L'arbre des songes, I. Librement, Interlude
L'arbre des songes, II. Vif, Interlude 2
L'arbre des songes, III. Lent, Interlude 3
L'arbre des songes, IV. Large et animé
Delage:
Quatre poemes hindous, I. Madras
Quatre poemes hindous, II. Lahore
Quatre poemes hindous, III. Bénarès
Quatre poemes hindous, IV. Jeypor
Dutilleux:
Métaboles, I. Incantatoire
Métaboles, II. Linéaire
Métaboles, III. Obsessionnel
Métaboles, IV. Torpide
Métaboles, V. Flamboyant
Ravel:
Daphnis et Chloé Suite No 2, I. Lever du jour
Daphnis et Chloé Suite No 2, II. Pantomime
Daphnis et Chloé Suite No 2, III. Danse générale
Related products