Beethoven: Christ on the Mount of Olives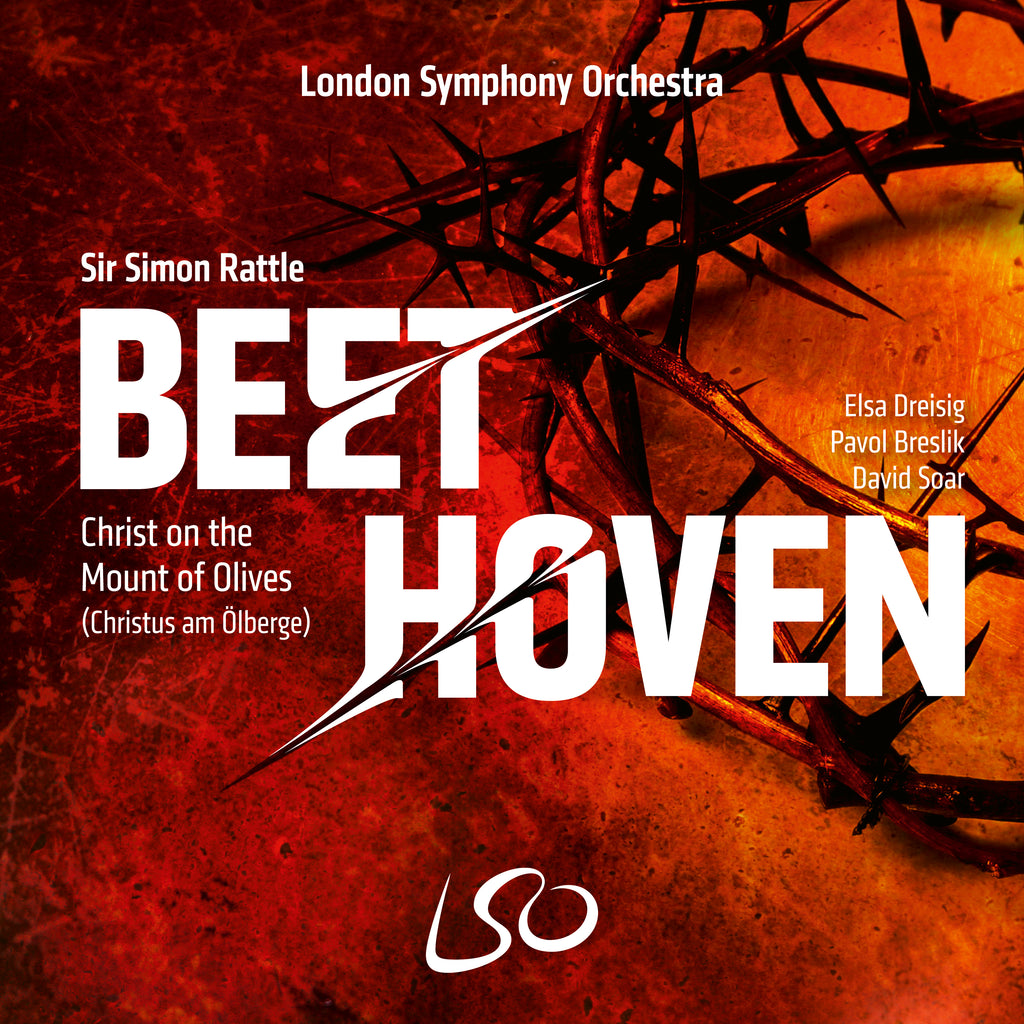 Release date: 13 November 2020
LSO0862 | 0822231186229

1 disc in jewel case
Booklet in English, French & German
SACD incl.stereo | multi-channel 5.1


Producer: Andrew Cornall
Engineers: Classic Sound
Recorded January & February 2020
Barbican Hall, London , Barbican Hall, London

★★★★★ 'This is an important release, not only for the quality of its performance but also because the work is very seldom performed…'
— Independent

★★★★ 'Rare Beethoven with 148 singers…Elsa Dreisig sings the soprano part. She is quite phenomenal…'
— de Volkskrant

★★★★ 'If you're looking for a fine, modern recording of this Beethoven curiosity, look no further…'
— Limelight

★★★★ 'An intense performance by tenor Pavol Breslik as Christ, together with bass David Soar as Petrus and Elsa Dreisig, appropriately delicate as an angel…'
All Music

'This is such an impressive performance. The gravitas of Pavol Breslik as Jesus, the sincerity of David Soar as Peter, an impeccably drilled LSO chorus and the orchestra guided with passion by Rattle… an excellent contribution to the anniversary discography'
— BBC Radio 3, Record Review
£10.99
Sir Simon Rattle
London Symphony Orchestra 
---
Composed in 1803, while Beethoven was also writing the Eroica Symphony, Christ on the Mount of Olives is the composer's only oratorio, and combines the emotive force of his later Missa Solemnis with the theatre of a Bach Passion. With orchestra, chorus and soloists, it tells the story of Jesus' prayer and arrest in the Garden of Gethsemane and reflects the emotional pressure Beethoven was under at the time he composed the work. This recording by Sir Simon Rattle, with acclaimed singers Elsa Dreisig, Pavol Breslik and David Soar was made during the London Symphony Orchestra's celebration of Beethoven's 250th anniversary.
'When I came to the Mount of Olives, I immediately was simply puzzled. Why isn't this piece played? Of course, it's a mixed piece and there are weird flaws and edges but so there are in the Ninth Symphony, they're part of the personality. It's a fascinating moment in his life when he was starting really to deal with his hearing loss. He'd written the Heiligenstadt Testament, where he really confessed to his suicidal thoughts on losing the single-most important ability a musician could have. There is a kind of unearthly, underground sensation of some of it, there's also a real feeling of naive belief in the possibility of things being better. I think it is completely heaven.' — Sir Simon Rattle

| | | |
| --- | --- | --- |
| Composer |   | Ludwig van Beethoven |
| Conductor |   | Sir Simon Rattle |
| Soloists |   | Elsa Dreisig, Pavol Breslik, David Soar |
| Performers |   | London Symphony Orchestra, London Symphony Chorus |
---
Track list
1. No. 1a, Introduzione. Grave - Adagio
2. No. 1b, Recitativo. Jehova, Du Mein Vater!
3. No. 1c, Aria. Meine Seele Ist Erschuttert
4. No. 2a, Recitativo. Erzittre, Erde!
5. No. 2b, Aria. Preist Des Erlosers Gute
6. No. 2c, Chor Der Engel. O Heil Euch Ihr Erlosten
7. No. 3a, Recitativo. Verkundet, Seraph, Mir Dein Mund
8. No. 3b, Duetto. So Ruhe Dann Mit Ganzer Schwere
9. No. 4a, Recitativo. Willkommen, Tod!
10. No. 4b, Chor Der Krieger. Wir Haben Ihn Gesehen
11. No. 5a, Recitativo. Die Mich Zu Fangen Ausgezogen Sind
12. No. 5b, Chor Der Krieger. Chor Der Junger
13. No. 6a, Recitativo. Nicht Ungestraft Soll Der Verwegnen Schar
14. No. 6b, Terzetto. In Meinen Adern Wuhlen Unbandig Zorn Und Wut
15. No. 6c, Chor Der Krieger, Chor Der Junger.
16. No. 6d, Chor Der Engel. Welten Singen Lob Und Ehre
17. No. 6e, Chor Der Engel. Preiset Ihn, Ihr Engelschore
Related products