Berlioz: Roméo et Juliette [download]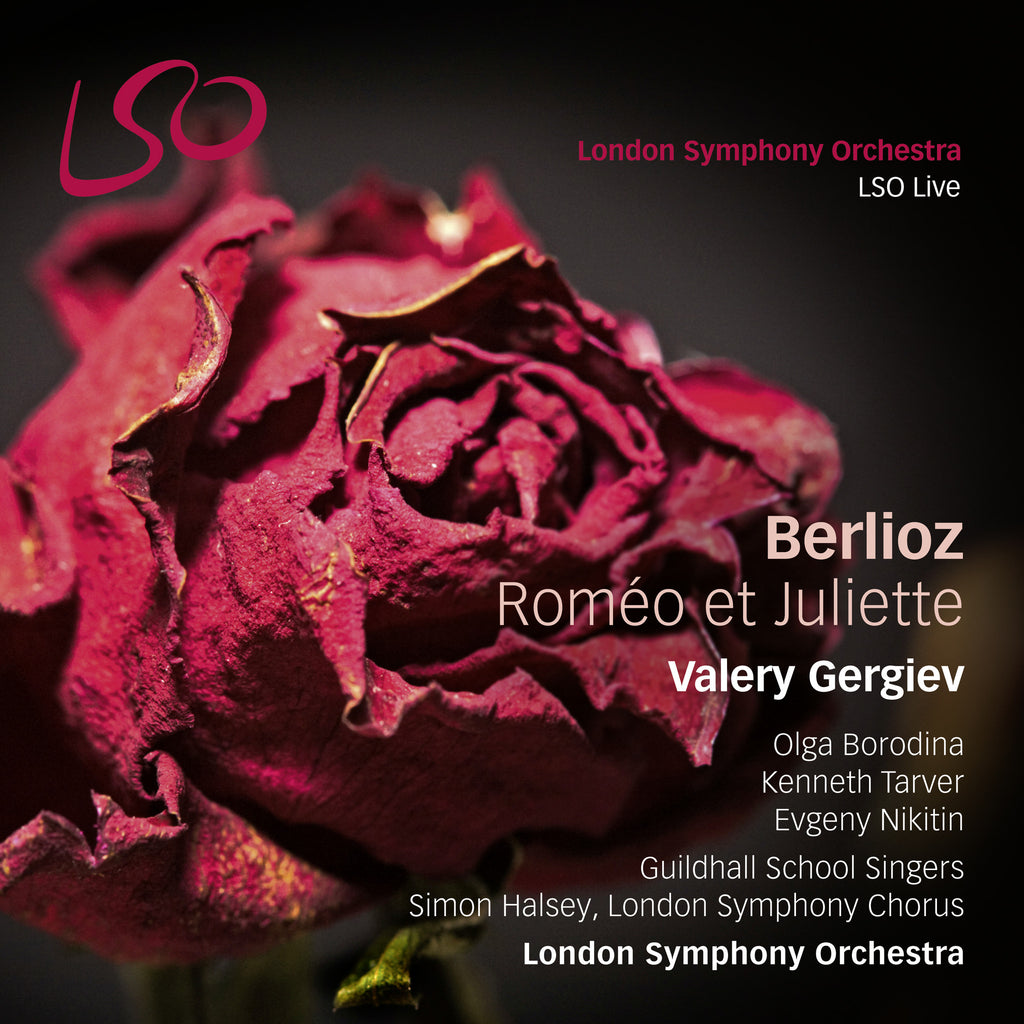 Catalogue Number LSO0762
UPC 822231176220

James Mallinson producer
Classic Sound Ltd engineering, editing, mixing & mastering

Recorded live in DSD at the Barbican on the 6th & 13th November 2013


Format

FLAC stereo 24 bit 96 kHz
MP3 stereo 320 kbps

Total playing time 90m 20s
2 disc jewel case with clear tray
Notes in English, French and German

***** 'Under the direction of the great conductor Valery Gergiev, London Symphony Orchestra shines in all its finery… Between touching and elegance, Gergiev, LSO and interpreters are integral to delivering a version that highlights the serious and mysterious atmosphere. A great success.'
Journal de Quebec

**** 'Valery Gergiev directs a red-hot performance here with the LSO and the London Symphony Chorus, augmented by the fresh-sounding Guildhall School Singers…It's a strong team performance, driven by earthy passion.'
The Scotsman

**** '[Gergiev's] orchestra and chorus has been seasoned with Berlioz under Sir Colin Davis, with two familiar soloists, the rich toned Olga Borodina and Kenneth Tarver, who once again delivers Mercutio's Queen Mab fantasy with elegant fluency and dash.'
BBC Music Magazine

'An account that brims with energy and vitality.'
The Northern Echo

'Valery Gergiev's recent recording with the London Symphony Orchestra is most successful in conveying the fevered excitement of Shakespeare's young people.'
MusicWeb International

Concert reviews

**** 'Gergiev was in inspirational form and the LSO embraced his reading of Berlioz's Roméo et Juliette with skill and energy.'
The Guardian

**** 'It was on the wildest shores of Berlioz's music – the frenzied depiction of the crowd descending on the lovers' tomb and the brawl of the Capulets and Montagues – that the Gergiev magic truly emerged.'
The Observer

**** 'Gergiev's reading was truly operatic… I left in little doubt that Gergiev and his orchestra are as fine a team of representatives as Berlioz could want.'
Bachtrack
£10.99
Valery Gergiev
London Symphony Orchestra
---
Released in the year of Shakespeare's 400th anniversary, Valery Gergiev and London Symphony Orchestra are joined by soloists Olga Borodina, Kenneth Tarver and Evgeny Nikitin for Berlioz Roméo et Juliette, recorded live at the Barbican Hall in November 2013. Part of a major series of eight concerts, this work toured to venues in the Czech Republic, Germany, Austria and France.
A large-scale 'symphonie dramatique', Roméo et Juliette was the fruit of the composer's dual fascination with Shakespeare and with the actress Harriet Smithson, whom he was later to marry. Using the story of the star-crossed lovers as a starting point, Shakespeare's passion and drama is deftly portrayed through his music, as well as through the abundance of lyrical poetry, written by French poet Émile Deschamps.
Grammy-award winning mezzo-soprano Olga Borodina is a star of the Mariinsky Theatre, regularly appearing at major opera houses and with great orchestras around the world. A winner of the Rosa Ponselle and Barcelona competitions, Borodina made her highly acclaimed European debut at London's Royal Opera House, Covent Garden, in 1992, sharing the stage with Plácido Domingo in Samson et Dalila – a performance that launched her international solo career as one of the most sought-after mezzos for her repertoire.
Kenneth Tarver is considered one of the outstanding tenore-di-grazia of his time. He has appeared at the most prestigious opera houses and concert halls around the world specialising in Mozart and challenging, skilled oratorio repertoire. He is a graduate of prestigious institutions including Interlochen Arts Academy, Oberlin College Conservatory of Music, Yale University School of Music, and was also a member of the Metropolitan Opera's Young Artist Development Program. He has appeared on previous LSO Live recordings, notably the double Grammy Award winner Les Troyens, conducted by Sir Colin Davis. 
Bass-baritone Evgeny Nikitin trained at the St Petersburg State Conservatory, graduating in 1997. He has been described as 'physically, vocally, a complete star' by The Independent. His premiere solo performance was with the Mariinsky Orchestra and was followed by invitations to perform at major theatres and festivals across the world. His discography includes other recordings with Valery Gergiev, including Wagner Parsifal on the Mariinsky Label.
---
Composer
 
Berlioz
Conductor
 
Valery Gergiev
Choral Director
 
Simon Halsey
Performers
 

London Symphony Chorus
Guildhall School Singers
London Symphony Orchestra

Soloists
 

Olga Borodina
Kenneth Tarver
Evgeny Nikitin
Track list
Disc 1
1. Première Partie: No 1: Introduction: Combats - Tumulte - Intervention du Prince
2. Première Partie: No 1: Prologue: Récitatif Chorale "D'anciennes haines endormies"
3. Première Partie: No 1: Prologue: Strophes "Premiers transports que nul n'oublie!"
4. Première Partie: No 1: Prologue: Récitatif et Scherzetto "Bientôt de Roméo"
5. Deuxième Partie: No 2: Roméo seul - Tristesse - Bruit lointain de bal et de concert - Grande Fête chez Capulet
6. Deuxième Partie: No 3: Scène d'amour: Nuit sereine - Le Jardin de Capulet, silencieux et désert "Ohé! Capulets, bonsoir!"
7. Deuxième Partie: No 4: Scherzo: La Reine Mab, ou la Fée des Songes

Disc 2
1. Troisième Partie: No 5: Convoi funèbre de Juliette "Jetez des fleurs pour la vierge expirée!"
2. Troisième Partie: No 6: Roméo au tombeau des Capulets: Invocation - Réveil de Juliette
3. Troisième Partie: No 7: Final: La foule accourt au cimetière - Rixe des Capulets et des Montagus "Quoi! Roméo de retour" - Récitatif du Père Laurence "Je vais dévoiler le mystère"
4. Troisième Partie: No 7: Final: Air du Père Laurence "Pauvres enfants que je pleure"
5. Troisième Partie: No 7: Final: Serment de réconciliation "Jurez donc, par l'auguste symbole"
Related products