Mendelssohn: A Midsummer Night's Dream [download]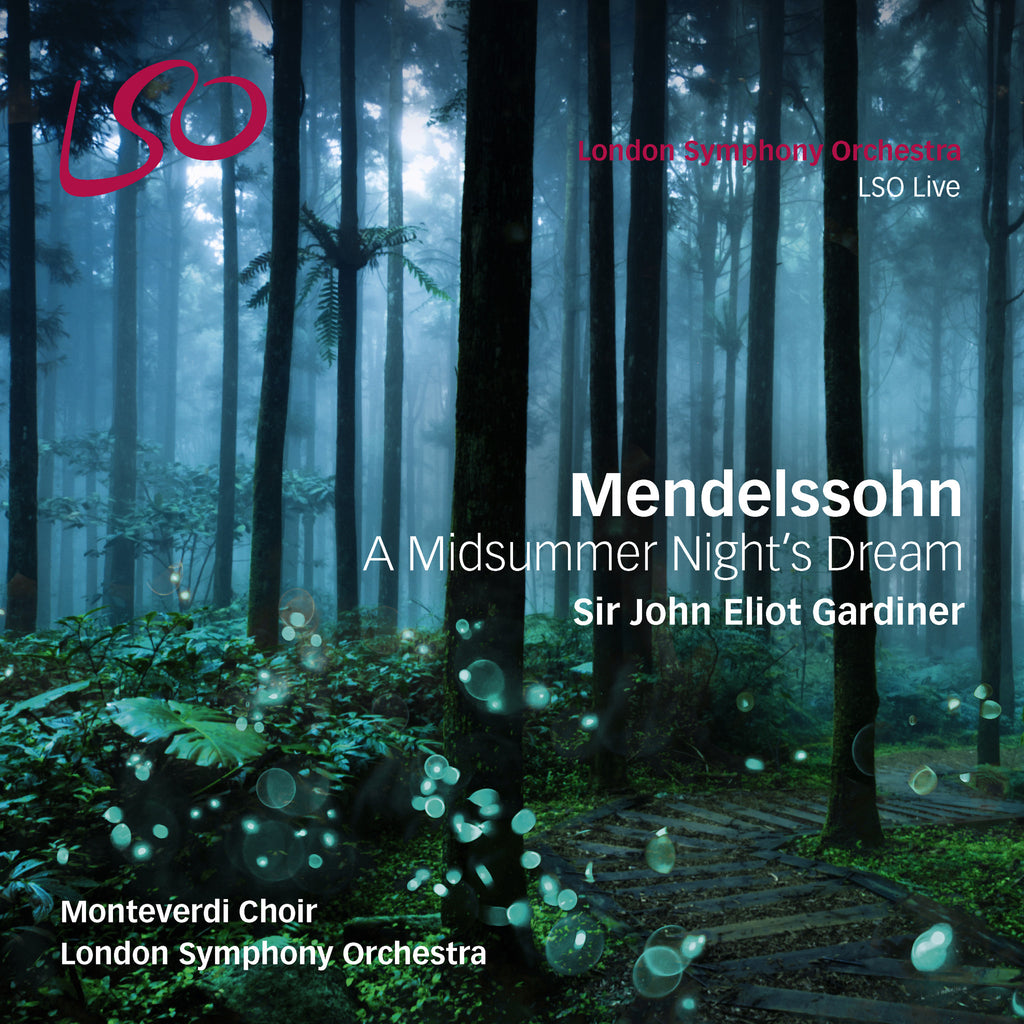 Catalogue Number LSO0795
UPC 822231179528


Nicholas Parker producer
Neil Hutchinson and Jonathan Stokes for Classic Sound Ltd sound engineers
Nicholas Parker and Neil Hutchinson audio editors

Recorded live in DSD 128fs, 16 February 2016, at the Barbican, London


Programme notes in English / Notes de programme en français /
Einführungstexte auf Deutsch
Texts in English. Sung and spoken in English

Diapason's Symphonic Recording of the Year
'The angelic clamours of the Monteverdi Choir almost had us believing in fairies.'

Classica's Symphonic Recording of the Year
''The mystery and worry that veils the Apollonian Nocturne, supported by the gleaming brass, is captivating.'

Classic FM's Album of the Week

BBC Music Magazine Orchestral Choice
***** 'The interplay between spoken and instrumental sections is smoothly engineered and the young actors keep things moving. But it's Mendelssohn's lyricism that wins overall: how do you sum up nearly an hour's music with just a slow, high, softly descending E major scale? Genius.'

Presto Classical Disc of the Week
'There's a real lightness of touch in the Overture, and I was delighted with the way that Gardiner manages to make familiar music sound fresh. He doesn't shy away from some of Mendelssohn's more imaginative touches of orchestration, and the moment where Mendelssohn employs huge leaps in the violins and clarinets to represent the braying of Bottom is pleasingly done.'

The Sunday Times Album of the Week
'Gardiner hears this music through the prism of period instruments and conveys its magic with his outstanding choir and soloists.'

***** 'He [Sir John Eliot Gardiner] secures remarkable crisp, lithe playing - some pianissimos are simply breathtaking - and restores a handful of cuts to the familiar performance version. His choral stalwarts are on top form, as are three impressive young actors from the GMSD - their contributions are genuinely enjoyable, making this a most winning (and beautifully recorded, especially in HD) new version.'
Classical Music Magazine

'The recording captures everything I read about the performance in the reviews: the shimmering sounds, the accuracy and attention to detail.'
BBC Radio 3 Record Review

Concert reviews

***** 'It was the consistent suavity of the LSO's playing under Gardiner's baton that impressed most of all. The winds were outstanding in Mendelssohn's shimmering score.'
The Guardian

***** 'You'd have had to have been an ass to find this performance of Mendelssohn's incidental music …anything other than magical…John Eliot Gardiner unlocked both the silken beauty of this music and its evanescence.'
The Times

**** 'I suspect I'll hear this miraculous score many times…but I doubt I'll hear it better played than the LSO under Sir John Eliot Gardiner…This performance tingled with drama.'
Bachtrack

**** 'The magic was supplied by those musicians, under John Eliot Gardiner, spinning textures of delectable delicacy, with feather-light strings and fluttery flutes.'
The Evening Standard
£9.99
Sir John Eliot Gardiner
London Symphony Orchestra
---
Winner: Recordings of the Year 2017 - Presto Classical 
Winner: Choc de L'année 2017 - Classica 
Winner: Musique symphonique, Diapason de L'année 2017, Diapason
100 Best Albums of 2017 - The Times
Continuing his award-winning cycle, Sir John Eliot Gardiner leads the London Symphony Orchestra, his Monteverdi Choir and three talented, young, actors from the Guildhall School in a landmark performance of Mendelssohn's A Midsummer Night's Dream, which was performed as part of the 400th anniversary of Shakespeare's death.
To mark the celebrations, Gardiner produced a special version of the work featuring some cuts to the original movements that, in his words, 'removing all of the music relating to the Mechanicals and thus focusing on the world of the fairies and the human lovers.' Mendelssohn, who adored Shakespeare's writings, composed his concert overture based on A Midsummer Night's Dream in 1827 at the young age of 17. Music scholar George Grove described it as 'the greatest marvel of early maturity that the world has ever seen in music.' 
| | | |
| --- | --- | --- |
| Composer |   | Mendelssohn |
| Conductor |   | Sir John Eliot Gardiner |
| Performers |   | London Symphony Orchestra |
| Choir |   | Monteverdi Choir |
| Actors |   | Alexander Knox, Ceri-lyn Cissone, Frankie Wakefield |
---
Track list
1. Overture
2. Incidental music: Narration - "Ay me! For aught that I could ever read"
3. No 1 Scherzo
4. No 2 L'istesso tempo
5. No 2a Allegro vivace
6. No 3 Lied mit Chor
7. No 4 Andante
8. No 5 Allegro appassionato
9. No 7 Nocturne (Con moto tranquillo)
10. No 8 Andante
11. No 9 Hochzeitmarsch ("Wedding March") & No 12 Allegro vivace come primo
12. Finale (Allegro di molto)
---
Related products