Mendelssohn: Symphonies Nos 1 & 4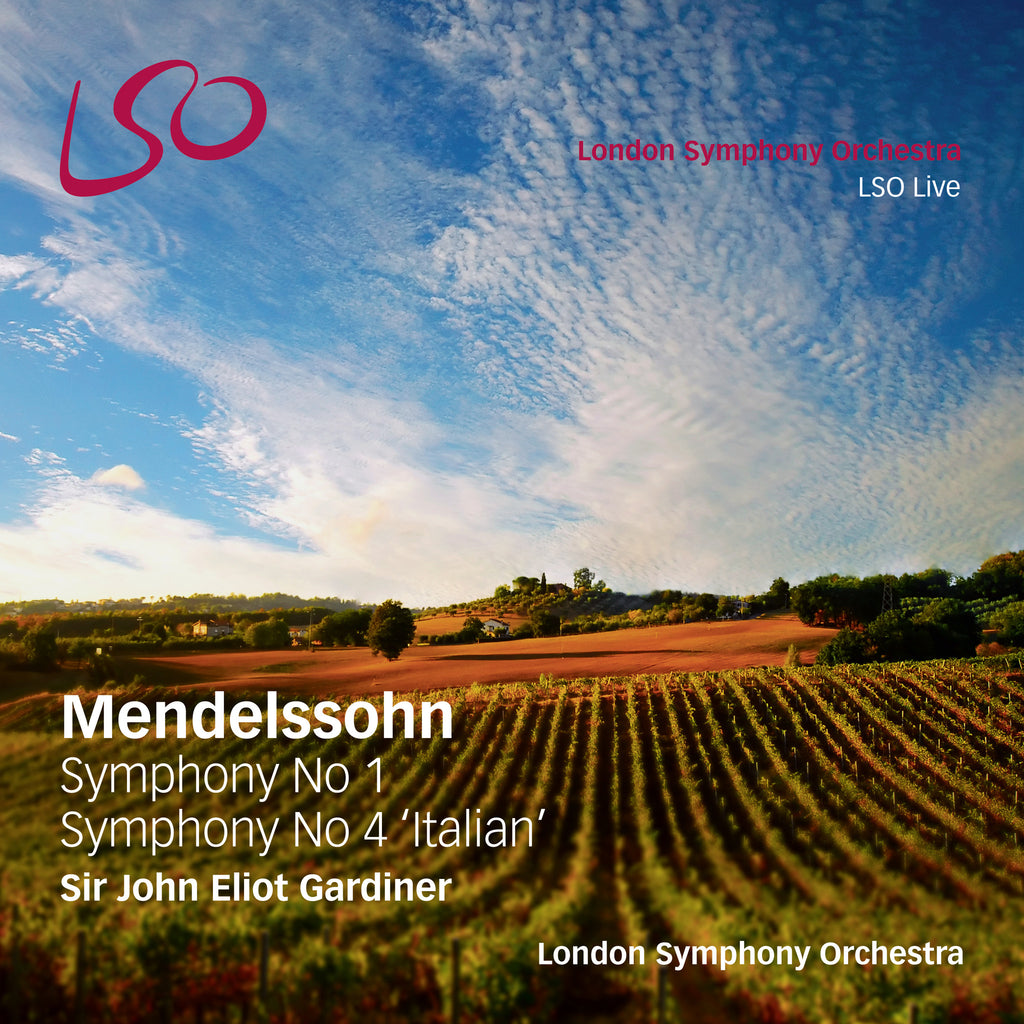 Catalogue Number LSO0769
UPC 822231176923

Nicholas Parker producer Classic Sound Ltd engineering, editing, mixing & mastering
Recorded live in DSD128fs at the Barbican Hall, 23rd March 2014 & 16th February 2016

Format

SACD Hybrid

Layer 1 - 2.0 stereo + 5.1 surround mixes
Layer 2 - Standard CD audio

Pure Audio Blu-ray

2.0 LPCM 24bit 192kHz
5.1 DTS-HD Master Audio 24bit 192kHz

Total playing time 62 mins 03 secs
2 disc jewel case with clear tray. TBCpp booklet
Notes in En, Fr, Ge

Gramophone's Editor's Choice
'The outer movements are fiery but not over-driven, and the phrase-ends turn on a sixpence. I have not heard the slow movement better done…Outstanding.'

'Gardiner's Mendelssohn is as genial as it gets.'
The Sunday Times

'Gardiner keeps the LSO on its toes both in the C minor work and the Italian symphony, the winds producing crystal-clear articulation the hair-raisingly fast account of the latter's concluding saltarello. He also effectively brings out the undercurrent of unease in the C minor work's slow movement, and the final reprise of its theme is quite beautifully handled.'
BBC Music Magazine

'This latest issue is one of the most enjoyable so far, with a particularly brisk and lively 'Italian' symphony.'
Classical CD Choice

'A vigorous and incisive Italian, with a fresh and even more exhilarating "First"... a real tribute to the virtuosity of the orchestra... [Gardiner] does not let us down—this is one of the finest and most astute readings [of Symphony No 1] I have ever heard.'
Audiophile Audition

'These performances compete strongly with Chandos's recent very fine Birmingham series.'
MusicWeb International

Concert reviews

***** 'The finale a whirling, impossibly fast ride from explosive beginning to punchy finish. The LSO players rose to it all.'
The Guardian

***** 'The orchestral textures were clarified to startling effect.'
The Times

**** 'The performance of Mendelssohn's 'Italian' Symphony No 4 was like a joyous high-speed rail journey around the country, taking in sun-soaked landscapes, an upbeat pilgrims' march, and a scalding saltarello that truly felt like a dance to the death.'
The Financial Times

**** 'This reading of the Italian exploited the exhilarating athleticism of the first movement and the frenzied Neapolitan dance rhythms of the saltarello finale.'
The Evening Standard

**** 'Vivid Mendelssohn from Gardiner and the LSO.'
Bachtrack
£12.99
Sir John Eliot Gardiner
London Symphony Orchestra
---
Constantly in the vanguard of enlightened interpretation, Sir John Eliot Gardiner stands as a leader in today's musical life. His award-winning Mendelssohn cycle on LSO Live showcases his period performance expertise, the musicians standing to play, highlighting their individual musicianship. As Gardiner explains: 'It gives a different type of dynamism and energy... it means that the fiddles are freer in the way that they attack the extremely virtuosic lines and it gives a tremendous sense of occasion to the music making.'
Dramatic and harmonically adventurous, Mendelssohn's First Symphony is presented here in an exceptionally unique format, with both the original and revised versions of the third movement. As Gardiner said when introducing the work in concert:
'It's not every evening that you get to hear a symphony by a fourteen-and-a-half year-old genius and there's an intriguing complication to this piece. When Mendelssohn came to London in 1829, he performed the symphony and he wrote back to his parents saying: "well, I looked over my symphony and, lord, the minuet bored me to tears! So what I did was to take the scherzo from my Octet and I added a few airy trumpets and it sounded lovely." Well, actually he did an awful lot more than that; he re-orchestrated absolutely brilliantly. And it's so good, we thought you should hear that version. But what about the minuet and trio? Why, when he came to publish the symphony did he use that version and leave out the scherzo? I happen to think they're both really remarkable, as is the whole symphony, and perhaps you'd let us know which you prefer...?'
The Fourth Symphony is inspired by the sights, sounds and atmosphere of Italy and is among the best loved of all the composer's works. Mendelssohn described it as:
'the jolliest piece I've written so far.'
John Eliot Gardiner says of the work: '
Mendelssohn threw everything, in terms of virtuosity and risk-taking, at the Italian Symphony and it's remained incredibly popular...
---
| | | |
| --- | --- | --- |
| Composer |   | Mendelssohn |
| Conductor |   | Sir John Eliot Gardiner |
| Performers |   | London Symphony Orchestra |
---
Track list
1. Symphony No 1, I. Allegro di molto
2.
Symphony No 1, II. Andante
3.
Symphony No 1, III. Scherzo: Sempre pianissimo e leggiero (1829 London version)
4.
Symphony No 1, III. Menuetto: Allegro molto (original version)
5.
Symphony No 1, IV. Allegro con fuoco
6.
Symphony No 4, I. Allegro vivace
7.
Symphony No 4, II. Andante con moto
8.
Symphony No 4, III. Menuetto: Con moto moderato
9.
Symphony No 4, IV. Finale (Saltarello): Presto
---
Related products