Mendelssohn: Symphony No 2 'Lobgesang'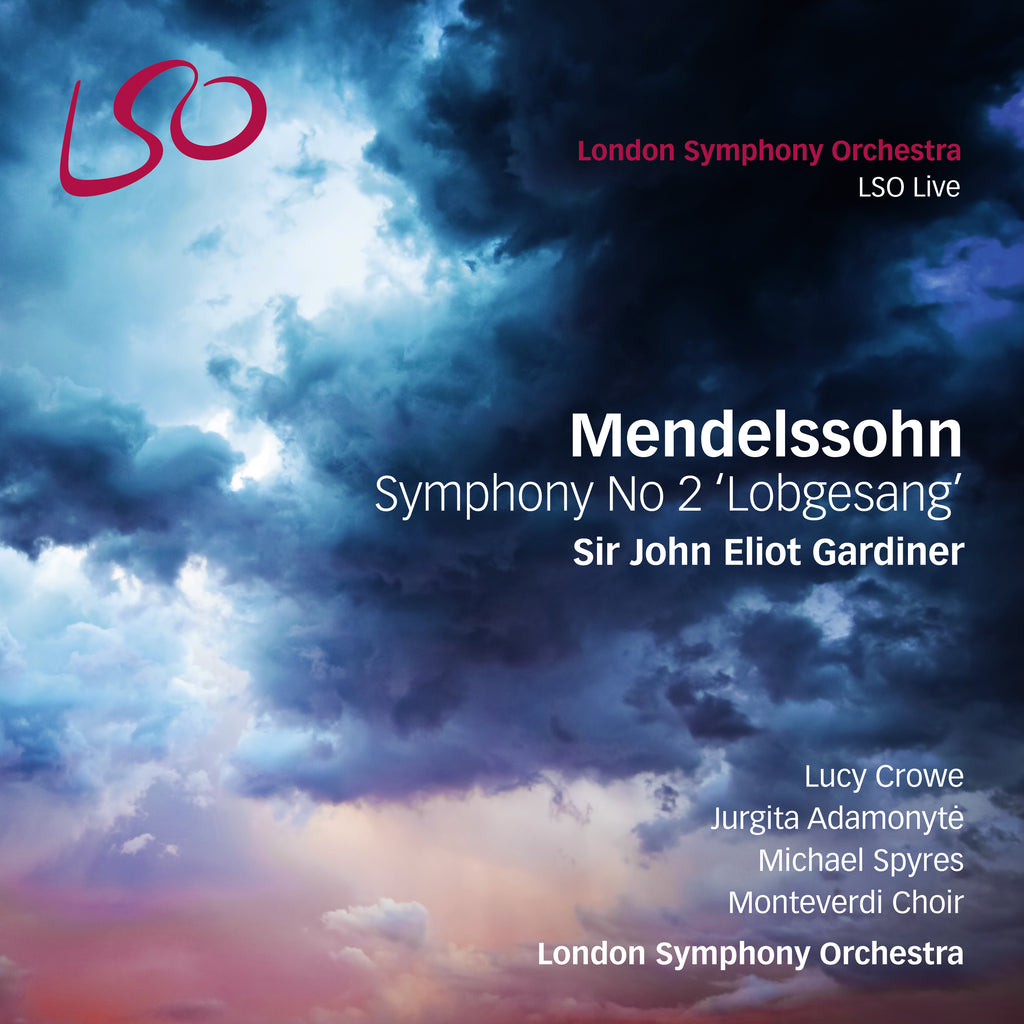 Catalogue Number LSO0803
UPC 822231180326


Nicholas Parker producer
Neil Hutchinson and Jonathan Stokes
for Classic Sound Ltd sound engineers
Nicholas Parker and Neil Hutchinson audio editors

Recorded live in DSD 128fs, 16th & 20th October 2016, at the Barbican, London


Includes a Pure Audio Blu-ray disc featuring high-resolution master audio.

Programme notes in English / Notes de programme en français /
Einführungstexte auf Deutsch
Texts in German and English. Sung in German

Gramophone Magazine's Editor's Choice October 2017
'This performance has a vitality that compels attention... a splendid way to conclude Gardiner's splendid cycle.'

Performance: **** Recording: **** 'There is much pleasure to be had in Lucy Crowe's radiant soprano and Michael Spyres's lyrical tenor.'
BBC Music Magazine

***** 'The advantage of this LSO recording is that the widely spread, powerful choir is accompanied by well-detailed orchestral sound…This lucid, superbly sung account is now among my favourites of 'Lobgesang'.
Classical Source

**** 'This SACD recording [allows] the text to be heard distinctly in every movement… the recording of choice.'
Choir and Organ

'Fine soloists!'
BBC Radio 3 Record Review

'A powerful and uplifting account of one of Mendelssohn's most striking and original compositions. Highly recommend.'
Classical CD Choice

'Spyres' vocals are powerful and well-articulated, the young Crowe demonstrates an impressive level of control over her charming voice and Adamonyté delivers in a warm, rich tone.'
Pizzicato

'The whole performance has great conviction: Gardiner clearly believes in the symphony. Top-class playing and singing... Gardiner and his team have done it proud and this is a fine conclusion to their Mendelssohn cycle.'
MusicWeb International

'[A] superb, noble-sensitive renaissance of a much too rarely-performed masterpiece.'
crescendo.de

'The men's choir […] exudes pure joy.'
der-neue-merker.eu

'The soloists are excellent.'
kulturradio.de

'Immediately gripping.'
Fono Forum
£12.99
Sir John Eliot Gardiner
London Symphony Orchestra
---
Bringing his acclaimed Mendelssohn cycle to a rousing conclusion, John Eliot Gardiner presents the composer's symphony-cantata, Lobgesang. Mendelssohn wrote that the piece 'lies very near my heart', and with its stately grandeur and religiosity, plus its sheer magnitude – double the length of any of his other symphonies – it stands amongst his most impressive works. Posthumously categorised by editors as the composer's second symphony, it is also known as a 'song of praise' and three talented soloists join the LSO and the world-class Monteverdi Choir for this recording.
While Gardiner is well-versed in the German's output, this release documents his first performance of the work. In an interview for The Arts Desk, he said: It's a piece I've been looking at for years, and I've never conducted it. I was a bit sceptical at first, thinking that it was the torso of a symphony with a cantata bolted on. But it isn't. It's a delight. It has a lot of the inventiveness and sheer melodic flow of the young Mendelssohn and it's perfectly calibrated and constructed.'
This is the perfect end to an exploration of a composer whose music known the world over, but also has so much more to offer. Summing up his feelings at the end of the project, Gardiner said: 'My admiration for Mendelssohn has gone up enormously, as a result of really digging deep into these symphonies...it's so rewarding with this group of players, they're willing to go to the last enth degree, in terms of detail of phrasing and articulation, and that's a joy.'
| | | |
| --- | --- | --- |
| Composer |   | Mendelssohn |
| Conductor |   | Sir John Eliot Gardiner |
| Performers |   | London Symphony Orchestra |
| Choir |   | Monteverdi Choir |
| Soloists |   | Lucy Crowe, Michael Spyres, Jurgita Adamonytė |
---
Track list
Symphony No. 2, Op. 52, 'Lobgesang':
No. 1 Sinfonia - Maestoso con moto
No. 1 Sinfonia - Allegretto un poco agitato
No. 1 Sinfonia - Adagio religioso
No. 2 Allegro moderato maestoso "Alles, was Odem hat, lobe den Herrn"
No. 2 Molto più moderato ma con fuoco "Lobe den Herrn, meine Seele"
No. 3 Recitativo "Saget es, die ihr erlöst seid durch den Herrn"
No. 3 Allegro moderato "Er zählet unsre Tränen"
No. 4 Chor. A tempo moderato "Sagt es, die ihr erlöst seid"
No. 5 Andante "Ich harrete des Herrn"
No. 6 Allegro un poco agitato "Stricke des Todes hatten uns umfangen"
No. 7 Allegro maestoso e molto vivace "Die Nacht ist vergangen"
No. 8 Choral. Andante con moto "Nun danket alle Gott"
No. 8 Un poco più animato "Lob, Ehr und Preis sei Gott"
No. 9 Andante sostenuto assai "Drum sing' ich mit meinem Liede ewig dein Lob"
No. 10 Schlusschor. Allegro non troppo "Ihr Völker! bringet her dem Herrn"
Related products