Mendelssohn: Symphony No 3 'Scottish'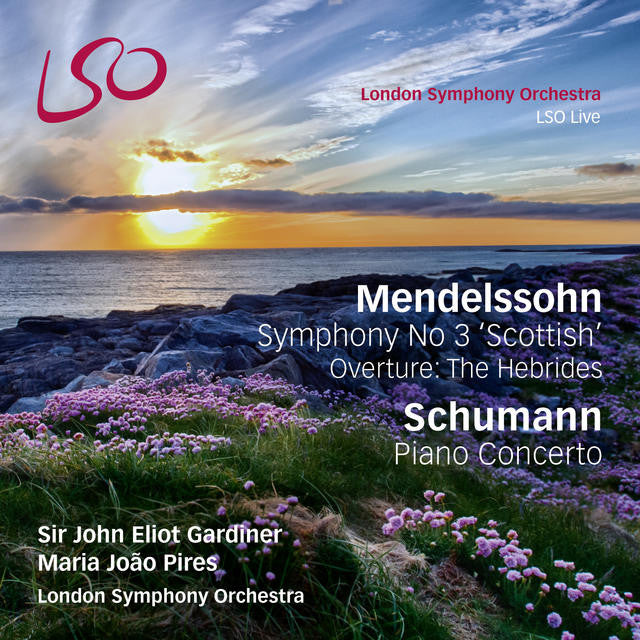 Catalogue Number LSO0765
UPC 822231176527


Nicholas Parker producer
Classic Sound Ltd engineering, mixing & mastering

1SACD + 1 Blu-ray audio disc
Audio + bonus video material/digital

Recorded live at the Barbican, 21st January 2014


DSD (direct stream digital) recording
Video/ audio 2.0 Stereo and multi-channel (5.0)

Notes in English / en français / auf Deutsch

Gramofon's Foreign Classical Compact Disc of the Year

Gramphone's Editor's Choice
'Gardiner brilliantly delineates orchestral textures and proves a perfect collaborative partner for Pires.'

Sverige Radio's Record of the Week
'A resounding cheer for this album!'

Classic FM Drive's Featured Album
'As you might expect, Sir John brings his love of authentic performance into his approach - the LSO strings sound bright and breezy as they evoke Mendelssohn's Scotland in both the Scottish Symphony and his Hebrides Overture.'

Performance: ***** Recording: ***** 'A dense, eventful performance, as one wishes Schumann performances to be more often.'
Fono Forum

Performance: ***** Recording: ****½ 'The sound quality on these discs is amongst the best that I have heard from LSO Live. The piano is very well balanced with the orchestra and the shortcomings of the Barbican acoustic are minimal… Highly recommended.'
SA-CD.net

***** 'This album is, in short, perfection in a nutshell.'
Cutting Edge

***** 'Top sound quality… the orchestra plays at its best, a truly magnificent recording.'
Neue Presse

'Playing and balance throughout are exemplary… [Pires] has the enviable ability to make everything sound fresh but natural, and her tone is enchanting.'
BBC Music Magazine

'A wise, intelligent performance. Praise too for LSO Live's engineers – this is among the best-sounding recordings from this source.'
The Arts Desk

'If I had to pick my record of the year, there would be a queue. Leading that queue, and ticking every box, is the stunning, revelatory new recording of Mendelssohn's Scottish Symphony and Hebrides Overture, with, to my taste, one of the finest performances of Schumann's Piano Concerto that I have ever heard. The whole thing is absolutely wonderful, and an education.'
The Herald Scotland
£12.99
Sir John Eliot Gardiner, 
London Symphony Orchestra
---
Inspired by his travels to the British Isles and full of the influence of the rolling Scottish landscape, both Mendelssohn's Symphony No. 3 'Scottish' and his Overture: The Hebrides are amongst the composer's most popular and admired works. The London Symphony Orchestra present us with inspiring performances of these works, as well as a performance of Schumann's Piano Concerto, featuring the celebrated pianist, Maria João Pires.
Sir John Eliot Gardiner writes of this coupling; 'Even if they spoke with different accents these genial Romantics were united in their ambitious fervour for 'abstract' music to be acknowledged as having the same expressive force as poetry, drama or the literary novel. The three works on this album exemplify the endeavour and range of invention of two of them, friends and colleagues in Leipzig'.
As well as SACD, this recording will be released on the new format Pure Audio Blu-ray, which will enable the orchestra to be heard in high resolution sound on every Blu-ray player. Bonus HD video footage of the full concert will also be included on the Blu-ray. 
---
Composers
 
Mendelssohn, Schumann
Conductor
 
Sir John Eliot Gardiner
Performers
 
London Symphony Orchestra
Soloist
 
Maria

João 

Pires
---
Track list
1. Overture: The Hebrides
2. Piano Concerto in A Minor: I. Allegro affettuoso
3. Piano Concerto in A Minor: II. Intermezzo: Andantino grazioso
4. Piano Concerto in A Minor: III. Allegro vivace
5. Symphony No. 3 in A Minor: I. Andante con moto - Allegro un poco agitato
6. Symphony No 3 in A Minor: II. Vivace non troppo
7. Symphony No 3 in A Minor: III. Adagio
8. Symphony No 3 in A Minor: IV. Allegro vivacissimo - Allegro maestoso assai
9. Bonus video content
---
Related products