Mozart: Wind Concertos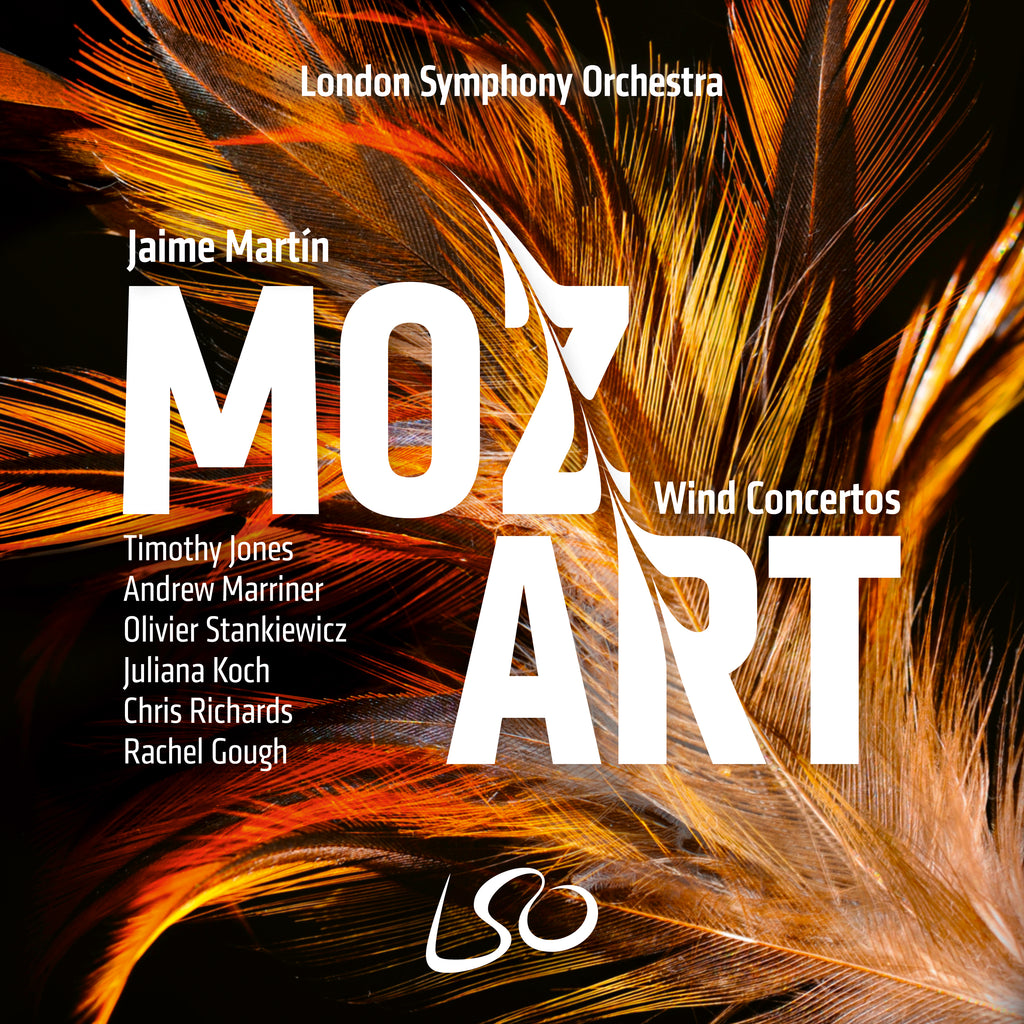 Release date: 19 November 2021
LSO0855 | 0822231185529

2 disc in jewel case
Booklet in English, French & German
SACD incl. stereo | multi-channel 5.1 (Disc 1) / 5.0 (Disc 2)


Producers: Andrew Cornall (Concertos; Sinfonia Concertante),
James Mallinson (Serenade No 10)
Engineers: Classic Sound
Recorded Jerwood Hall, LSO St Luke's, London
October 2019 (Concertos; Sinfonia Concertante)
& October 2015 (Serenade No 10)

'…The persuasiveness of the musicianship on display throughout is its own recommendation.'
– Gramophone

'…each performance offers many pleasures…'
– Colin's Column

'Thanks to a rather exceptional sound recording, the listener thus enters with joy in these twirling rhythms and this leaping lightness maintained by Jaime Martin, very attentive to the respect of the Mozartian gesture.'
– Hebdoscope
£14.99
LSO Soloists, Jaime Martín
London Symphony Orchestra 
---
Principal players of the London Symphony Orchestra display their virtuosic talents on this album of concertos for wind instruments by Mozart, recorded in concert with conductor Jaime Martín in the excellent acoustic of the Jerwood Hall, LSO St Luke's.

Three of Mozart's wind concertos are included: the Oboe Concerto, K314, with soloist Olivier Stankiewicz; the Clarinet Concerto, K622, performed by former LSO Principal Andrew Marriner; and the Horn Concerto No 2, K 417, played by Timothy Jones. Complementing these works is a performance of the beautiful Sinfonia Concertante, K297b, in which bassoonist Rachel Gough, oboist Juliana Koch and clarinettist Chris Richards take the solo roles.

Also included is a recording of Mozart's popular 'Gran Partita', performed by the London Symphony Orchestra Wind Ensemble.
| | | |
| --- | --- | --- |
| Composer |   | Wolfgang Amadeus Mozart |
| Conductor |   | Jaime Martín |
| Soloists |   | Olivier Stankiewicz (oboe), Juliana Koch (oboe), Andrew Marriner (clarinet), Chris Richards (clarinet), Rachel Gough (bassoon), Timothy Jones (horn) |
| Performers |   | London Symphony Orchestra |
---
Track list
Disc 1
Horn Concerto No 2 in E-flat major, K417
1.
I. Allegro
2.
II. Andante
3.
III. Rondo: Allegro – Più allegro
Oboe Concerto in C major, K314
4. I. Allegro aperto
5. II. Adagio non troppo
6. III. Rondo: Allegretto
Clarinet Concerto in A major, K622
7.
I. Allegro
8.
II. Adagio
9.
III. Rondo: Allegro
Disc 2
Sinfonia Concertante for Four Winds in E-flat major, K297b
1.
I. Allegro
2.
II. Adagio
3.
III. Andantino con variazioni
Serenade No 10 for Winds in B-flat major, K361, 'Gran Partita'
4. I. Largo – Molto allegro
5. II. Menuetto
6. III. Adagio
7. IV. Menuetto: Allegretto
8. V. Romance: Adagio
9. VI. Tema con variazioni
10. VII. Finale: Molto allegro
Related products