Rachmaninoff: Symphony No 3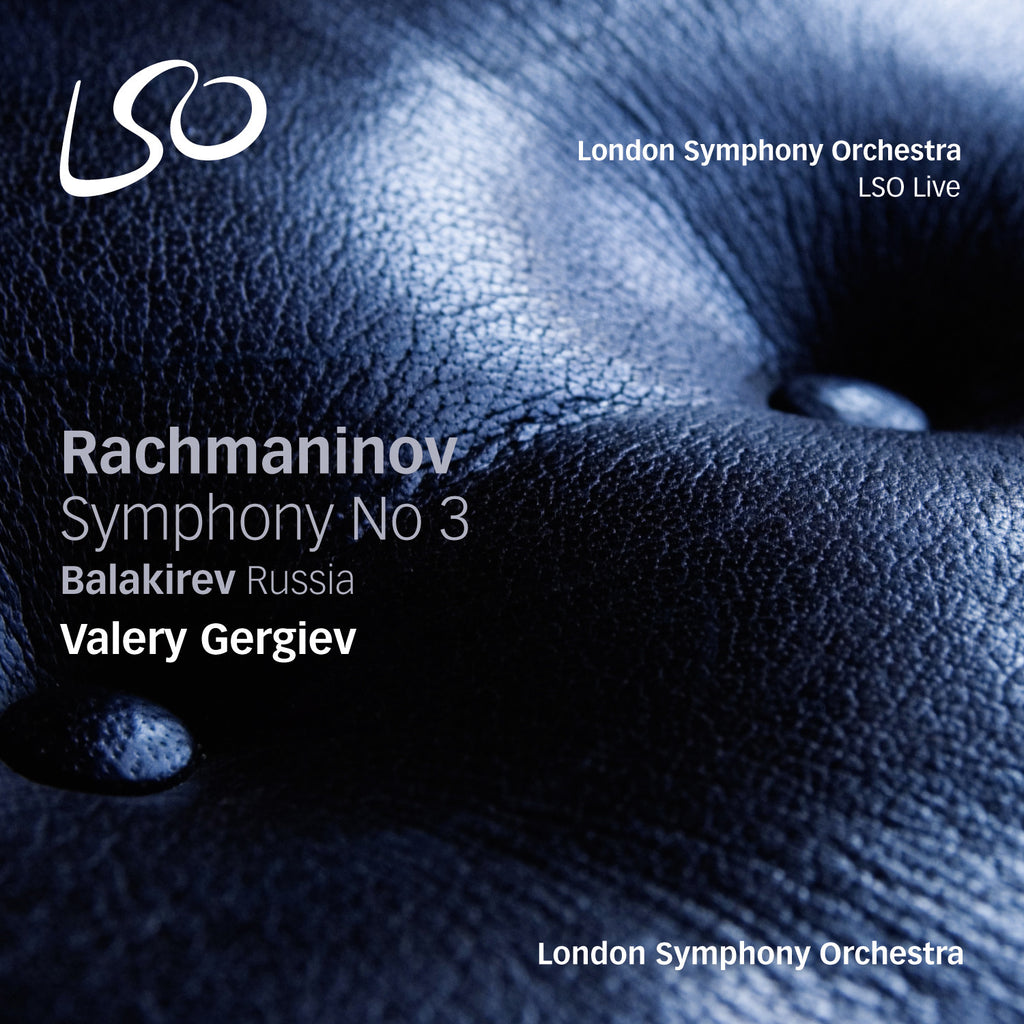 Catalogue Number LSO0779
UPC 822231177920

James Mallinson producer
Classic Sound Ltd recording, editing and mastering facilities
Jonathan Stokes for Classic Sound Ltd balance engineer,
audio editor, mixing & mastering engineer
Neil Hutchinson for Classic Sound Ltd recording engineer


Recorded live in DSD 128fs at the Barbican, November 2014

Format
1SACD Hybrid
2.0 stereo and 5.1 multi-channel audio streams

Packaging
Clear jewel case with clear tray
20-page booklet

Booklet notes in English / en français / auf Deutsch

Performance: ***** Recording: ***** 'Valery Gergiev and the LSO capture the score's expressive beauty, and also the sense of its transience as chill winter encroaches…Truly magical.'
BBC Music Magazine

'A five star performance from Gergiev and the London Symphony Orchestra.'
Classic FM Full Works Concert

'This spacious, beautifully detailed account of Rachmaninov's Third Symphony and the Balakirev were recorded live during Gergiev's Rachmaninov retrospective in November last year. The band is on its best form, the playing imbued with affection and nostalgia as well as verve and drive.'
The Sunday Times

'Magnificently delivered by the LSO… Gergiev's deeply serious and individual reading of this symphony has much to commend it… An excellent account of Balakirev's symphonic poem 'Russia' making its first appearance in high resolution audio. Gergiev's performance is vividly characterised and the LSO deliver a sprightly and idiomatic performance of this engaging and colourful piece.' CD Choice

'The combination of the two works is attractive… Gergiev's interpretation of the Third Symphony is dark and brooding, heavy with nostalgia.'
Klassik

'Gergiev and the LSO bring out the music's romance and regret… I am certainly pleased to have this one from Gergiev, notable for its spaciousness, poise and integrity.'
Classic Source

'The LSO is at its radiant best under Gergiev's dynamic direction.'
Classical CD Review

'[Gergiev's] readings have great zest and vitality.'
Pizzicato
£8.99
Valery Gergiev, 
London Symphony Orchestra
---
Following acclaimed LSO Live recordings of Rachmaninoff's Symphony No 2 and Symphonic Dances, Valery Gergiev conducts a scintillating account of the powerfully emotional Third Symphony, framed with a work by one of the Mighty Five; Balakirev's Russia. 
Rachmaninoff's third and final symphony was composed nearly 20 years after the composer's emigration from his homeland. Often considered to be his most overtly Russian symphony, Rachmaninoff makes subtle use of a motto theme which appears throughout the work and can be heard in the finale as a variant of the Dies Irae plainchant – a melodic tag used in Rachmaninov's music as a dark reminder of mortality. 
Russia, the epic symphonic poem, is a reworking of an Overture on Russian Themes, collected during Balakirev's expedition up through the Volga. It was composed in 1864 and is based on three folksongs – a slow wedding song and two round-dances which are varied, fragmented and combined throughout the piece. 
---
| | | |
| --- | --- | --- |
| Composers |   | Rachmaninoff, Balakirev |
| Conductor |   | Valery Gergiev |
| Performers |   | London Symphony Orchestra |
---
Track list
1. Symphony No 3 I. Lento – Allegro moderato – Allegro
2. 
Symphony No 3 II. Adagio ma non troppo – Allegro vivace
3. 
Symphony No 3 III. Allegro – Allegro vivace – Allegro (Tempo primo) – Allegretto – Allegro vivace
4. Russia 
---
Related products