Schumann: Das Paradies und die Peri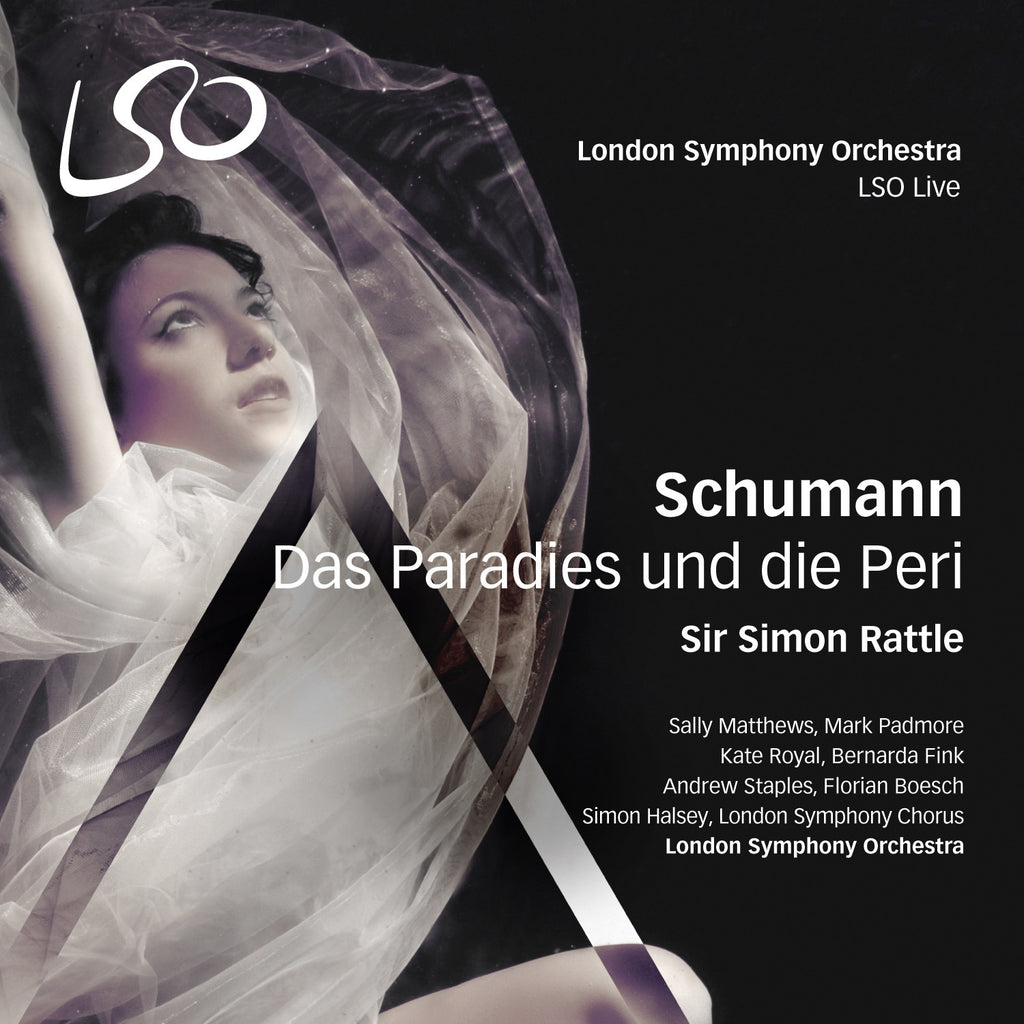 Catalogue Number LSO0782
UPC 822231178224

James Mallinson producer
Classic Sound Ltd engineering, editing, mixing & mastering.
Recorded live in DSD 128fs at the Barbican, 11th January 2015

Format

Set A Discs 1 & 2 [SACD Hybrid] Layer 1 -

2.0 stereo + 5.1 surround mixes

Layer 2 -

Standard CD audio

Set B Disc 1 (Disc 3 of the album) [Pure Audio Blu-ray]
5.1 DTS-HD MA - 24bit 192kHz
2.0 LPCM - 24bit 192kHz
Also includes downloadable audio files (stereo DSD, FLAC, WAV & MP3)

Total playing time 88m 03s
Booklet notes in English, French and German.
Texts in original language with translation.

Presto Classical Disc of the Year 2015

BBC Music Magazine's Choral and Song Choice
Performance: ***** Recording: ***** 'Superb recording… Vivid detail and clear choral textures come over quite stunningly, but the Blu-Ray has the edge. Its clarity entirely suits the greater expansiveness and richness of Rattle's reading… The LSO Chorus sing with arresting fervour. A pleasure to recommend.'

The Sunday Times' Album of the week
'Here, the LSO's playing, and especially the singing of the chorus, bristles with the ardour of a new love affair.'

**** 'A tender and introspective performance of Schumann's rarely-heard opera… Only the most callous listener could fail to be moved by Kate Royal, Bernada Fink, Andrew Staples and Florian Boesch's spellbound quartet.'
Sinfini Music

'There's no hiding either Rattle's eloquent advocacy of the work or the encouraging signs regarding his rapport with the orchestra, who play superbly for him.'
Gramophone

'Rattle handles [the piece] with a loving lightness of touch…Mark Padmore's narration and baritone Florian Boesch make the best impression.'

Financial Times

'A new era in London is marked with this recording. [Rattle] has long been an advocate for the piece, and his forces here respond with an eagerness born of discovery, particularly a chorus splendidly trained by Simon Halsey.'
The New York Times

'Simon Rattle deftly maintains an account of clarity and translucence, bringing out the delicate beauty of the score. [The soloists] rise to the occasion with sympathy and subtle allure. The recording (given in both SACD and Blu-ray format) manages to capture the detail of the score with an engaging sense of space, and so this LSO Live issue is an eloquent introduction to a delectable rarity.'
Classical Source

Concert reviews

***** 'It received as good a performance as could be imagined. Every strength of Schumann's art is showcased... [Rattle's] passion for this piece was obvious from his every gesture.'
The Arts Desk

**** 'The performance had tremendous presence.'
The Guardian

**** 'Sally Matthews as The Peri fully engaged our sympathies for the resourceful spirit, capturing alike her plaintive entreaties and her vibrant exultation at the prospect of redemption.'
The Evening Standard

'The classical-sized LSO (with five double basses) was at its elegant best in Schumann's luminous orchestration.'
Classical Source
£14.99
Sir Simon Rattle,
London Symphony Orchestra
---
In his debut recording on LSO Live, Sir Simon Rattle conducts a stunning performance of Schumann's rarely recorded Das Paradies und die Peri featuring a superb line-up of soloists.

Rattle is well-known for being a champion of this rarely-heard work, and yet this is the first audio recording he has made of it. Here it is brought to life by the LSO under his baton, and the starry line-up makes the best possible case for Schumann's great oratorio. 
Sir Simon says of the piece, 'It's the great masterpiece you've never heard, and there aren't many of those now.... This is just something else, a complete anomaly if you think about it. In Schumann's life it was the most popular piece he ever wrote, it was performed endlessly. Every composer loved it. Wagner wrote how jealous he was that Schumann had done it and he'd stolen this subject that he wanted to do and how extraordinary it was... It was a playground for composers and the piece was extraordinary.' 
Based on an episode from Thomas Moore's epic poem Lalla Rookh, itself inspired by exotic, colourful tales taken from Persian mythology, Das Paradies und die Peri reflects the 19th-century craze for all thing Oriental. Completed in 1843, Schumann's 'secular oratorio' tells how the Peri, a legendary creature, was expelled from paradise and follows her quest to redeem herself by giving the gift that is most dear to heaven. 
Writing about the work in a letter to a friend, Schumann said, 'at the moment I'm involved in a large project, the largest I've yet undertaken - it's not an opera - I believe it's well-nigh a new genre for the concert hall.' Conceived in three beautifully sequenced parts, it is unlike any oratorio of Schumann's day. Sustained melodic invention is clear throughout, with Peri's high C in the final forming a deftly timed climax.
Soprano Sally Matthews gives a soaring performance as the Peri, showcasing Schumann's imaginative and emotive vocal writing, while there are also superb supporting performances from Mark Padmore, Kate Royal, Andrew Staples and Florian Boesch. 
---
Composer
 
Schumann
Conductor
 
Sir Simon Rattle
Chorus Director
 
Simon Halsey
Performers
 
London Symphony Orchestra, London Symphony Chorus 
Soloists
 
Sally Matthews, Mark Padmore, Kate Royal, Bernarda Fink, Andrew Staples, Florian Boesch 
---
Track list
Disc 1
1. Erster Teil: No 1: Vor Edens Tor im Morgenprangen
2. Erster Teil: No 2: Wie glücklich sie wandeln
3. Erster Teil: No 3: Rezitativ - Der hehre Engel, der die Pforte
4. Erster Teil: No 4: Wo find ich sie?
5. Erster Teil: No 5: So sann sie nach
6. Erster Teil: No 6: Doch seine Ströme sind jetzt rot
7. Erster Teil: No 7: Und einsam steht ein Jüngling
8. Erster Teil: No 8: Weh, weh, er fehlte das Ziel
9. Erster Teil: No 9: Die Peri sah das Mal der Wunde
10. Zweiter Teil: No 10: Die Peri tritt mit schüchterner Gebärde
11. Zweiter Teil: No 11: Ihr erstes Himmelshoffen schwand
12. Zweiter Teil: No 12: Fort streift von hier das Kind der Lüfte
13. Zweiter Teil: No 13: Die Peri weint
14. Zweiter Teil: No 14: Im Waldesgrün am stillen See
15. Zweiter Teil: No 15: Verlassener Jüngling
16. Zweiter Teil: No 16: O lass mich von der Luft durchdringen
17. Zweiter Teil: No 17: Schlaf nun und ruhe in Träumen voll Duft

Disc 2
1. Dritter Teil: No 18: Schmücket die Stufen zu Allahs Thron
2. Dritter Teil: No 19: Dem Sang von ferne lauschend
3. Dritter Teil: No 20: Verstossen! Verschlossen aufs neu
4. Dritter Teil: No 21: Jetzt sank des Abends goldner Schein
5. Dritter Teil: No 22: Und wie sie niederwärts sich schwingt
6. Dritter Teil: No 23: Hinab zu jenem Sonnentempel
7. Dritter Teil: No 24: O heilge Tränen innger Reue
8. Dritter Teil: No 25: Es fällt ein Tropfen
9. Dritter Teil: No 26: Freud, ewge Freude, mein Werk ist getan

---
Related products