Scriabin: Symphonies Nos 1 & 2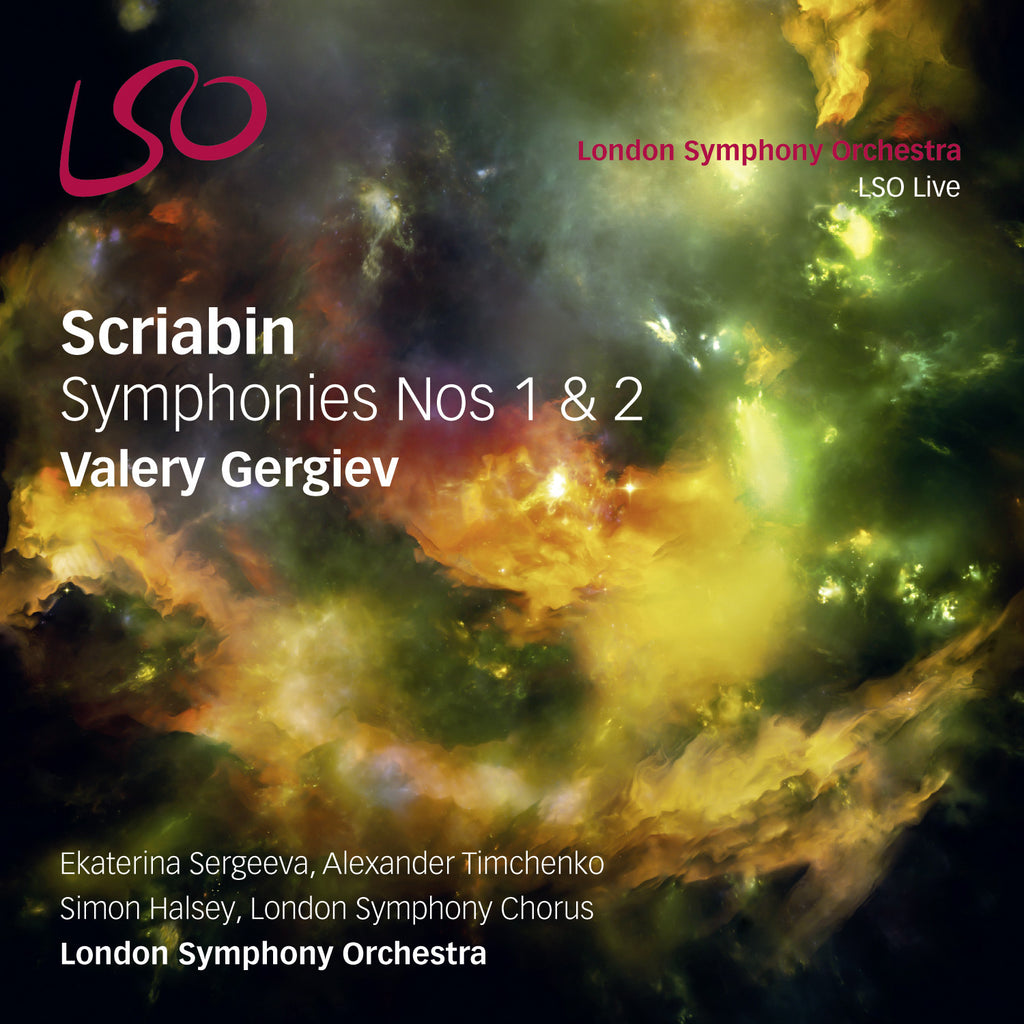 Catalogue Number LSO0770
UPC

James Mallinson producer
Classic Sound Ltd engineering, editing, mixing & mastering

Recorded live in DSD 128fs, at the Barbican, London
Symphony No 1 recorded
Symphony No 2 recorded

FORMAT - SACD Hybrid

Layer 1: SACD audio - 2.0 stereo + 5.1 surround mixes
Layer 2: CD audio - 16bit 44.1kHz

2 disc jewel case with clear tray
Notes in English, French and German

***** 'An indulgence of sound.'
Neue Presse

**** 'Gergiev manages the ascent and descent between the individual movements very well and they are full of tension. The LSO is at its best and makes very colourful and intense sounds. Particularly well done is the sensual, impressionistic third movement.'
Pizzicato

**** 'Gergiev goes for atmosphere, and delivers engaging and stimulating readings. The London Symphony Orchestra is on top form throughout, with the strings producing a weighty, dark tone and the woodwind solos a particular delight. Chorus and soloists also make impressive contributions to the First Symphony's finale. The SACD sound quality is excellent…showing the orchestra off to its full potential.'
Classical Ear

'There is no denying Valery Gergiev's commitment to the music, and if you have the matching coupling of Scriabin symphonies 3 and 4, you need not hesitate.'
Classical CD Choice

'[Gergiev] and the orchestra become one organic unit with an inner logic [the] music demands. A wonderful new issue I've enjoyed tremendously.'
The Whole Note

'Fine playing by the members of the LSO, including ardent violin solos, paired with avian twittering of the flute in the third movement.'
Washington Post

'Gergiev gets it right.'
Musicweb International
£9.99
Valery Gergiev
London Symphony Orchestra
---
Valery Gergiev and the London Symphony Orchestra bring to a close their revelatory Scriabin cycle with the release of Symphonies 1 & 2.
Epic in scope, Scriabin's highly original First Symphony was composed at the turn of the twentieth century. The ambitious work consists of six movements, the last of which features a chorus and two vocal soloists, beautifully sung in this recording by Ekaterina Sergeeva, Alexander Timchenko and the London Symphony Chorus. In the monumental choral finale, which brings the symphony to a rousing conclusion, Scriabin uses a text of his own composition to praise the supreme power of art: 'Come, all peoples of the world, Let us sing the praises of Art! Glory to Art, Glory forever!' 
Premiered two years after Symphony No 1, the Second Symphony contains echoes of Strauss, Tchaikovsky and Wagner, alongside Scriabin's deeply personal sound. While relatively more restrained in style than the composer's other symphonic output, over the course of its five movements there are sweeping climaxes, swirling colours and passages of majestic intensity, with a brooding Andante opening continuing without pause into a fervent second movement.
A mezzo-soprano born in St Petersburg, Ekaterina Sergeeva has been a soloist with the Mariinsky Academy of Young Singers since 2005, after graduating from the St Petersburg Conservatory. In 2009 Ekaterina sang the part of Elektra's Trainbearer, which she recorded with Valery Gergiev and the London Symphony Orchestra for LSO Live. Her accolades include prizes at both the 2008 International Zara Dolukhanova Amber Nightingale Competition and 2006 International Lisitsian Competition, as well as a Diploma for best performance of a contemporary work from the 2006 International Rimsky-Korsakov Competition.
Tenor Alexander Timchenko was born in Leningrad and graduated from the Glinka Choral School of the St Petersburg State Academic Capella in 1993, continuing his studies at the St Petersburg Conservatory. He performed the role of Shepherd in Stravinsky Oedipus rex with Valery Gergiev and the LSO in 2012, and has also featured on recordings including Stravinsky Les Noces with the Mariinsky Orchestra & Chorus, conducted by Valery Gergiev, 2010.
---
Composer
 
Scriabin
Conductor
 
Valery Gergiev
Choral Director
 
Simon Halsey
Performers
 
London Symphony Chorus
London Symphony Orchestra
Soloists
 
Ekaterina Sergeeva
Alexander Timchenko
Track list
Disc 1
1. Symphony No 1 in E Major, Op 26: I. Lento
2. Symphony No 1 in E Major, Op 26: II. Allegro dramatico
3. Symphony No 1 in E Major, Op 26: III. Lento
4. Symphony No 1 in E Major, Op 26: IV. Vivace
5. Symphony No 1 in E Major, Op 26: V. Allegro
6. Symphony No 1 in E Major, Op 26: VI. Andante

Disc 2
1. Symphony No 2 in C Minor, Op 29: I. Andante
2. Symphony No 2 in C Minor, Op 29: II. Allegro
3. Symphony No 2 in C Minor, Op 29: III. Andante
4. Symphony No 2 in C Minor, Op 29: IV. Tempestoso
5. Symphony No 2 in C Minor, Op 29: V. Maestoso
Related products