Stravinsky: The Firebird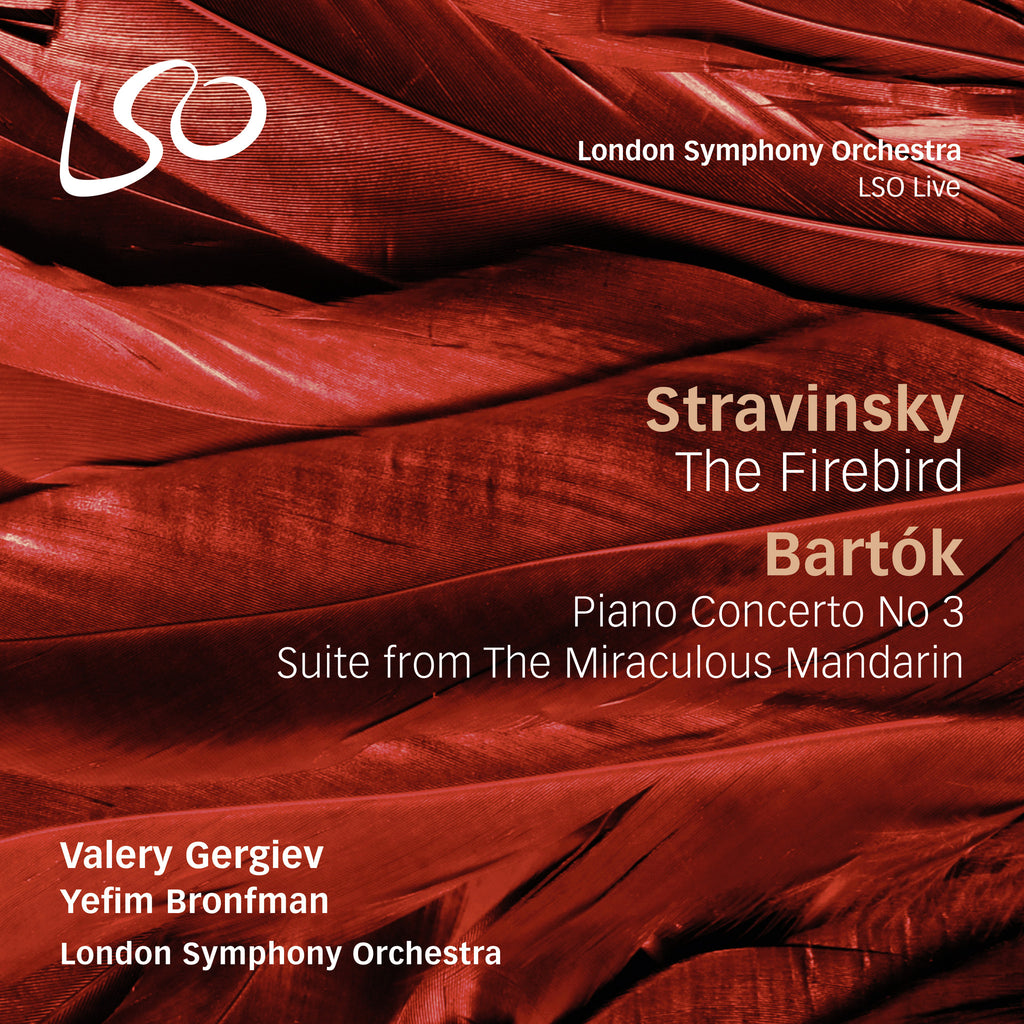 Catalogue Number LSO5078
UPC 822231507826


Edward Haber, Bill Moss, Irene Trudel and George Wellington for NYPR recording engineers
Jonathan Stokes for Classic Sound Ltd post-production & CD mastering

Recorded live on 24 October 2015 at the New Jersey Performing Arts Center by WQXR, New York's Classical Station

Notes in English / en français / auf Deutsch

**** 'The complete Firebird, long a Gergiev speciality, seems here even more sharply defined that earlier accounts – with, for instance, illuminating attention paid to the curious Allegro rapace marking of the Firebird's dance. And the combination of largeness of scale and extreme tonal refinement of Yefim Bronfman's solo Bartok playing is answered with wonderful specificity by conductor and orchestra.'
BBC Music Magazine
£11.99
Valery Gergiev, London Symphony Orchestra
---
Recorded live at the New Jersey Performing Arts Center, this album was captured during Valery Gergiev's penultimate concert as LSO Principal Conductor. A selection of repertoire that always fires the Russian's imagination, it's a perfect example of the best music making his relationship with the Orchestra could produce.
Stravinsky's Firebird was an instant hit with audience and critics alike at its 1910 premiere and has retained this popularity throughout the following century.
The legacy of Bela Bartok's Piano Concerto No 3 and The Miraculous Mandarin are similarly exalted. Piano Concerto No 3 is Bartók's final work, performed here by legendary soloist Yefim Bronfman, having been completed only four days before the composer succumbed to a long battle with leukaemia, while The Miraculous Mandarin, performed here in the suite version, is dramatic, mysterious and sinister.
In addition, this release features the encore performance of the second suite from Prokofiev's Romeo and Juliet.
---
| | | |
| --- | --- | --- |
| Composers |   | Stravinsky, Bartók, Prokofiev |
| Conductor |   | Valery Gergiev |
| Performers |   | London Symphony Orchestra |
| Soloist |   | Yefim Bronfman |
---
Track list
1-6. Bartók: The Miraculous Mandarin Suite (Op. 19, BB 82)
7-9. Bartók: Piano Concerto No. 3 in E major, Sz. 119, BB 127
7-9. Bartók:
 Piano Concerto No. 3 in E major, Sz. 119, BB 127
10-24. Stravinsky: The Firebird (complete version, 1910)
25. Prokofiev: Suite No. 2 from Romeo and Juliet, Op. 64ter
---
Related products