Stravinsky: The Rite of Spring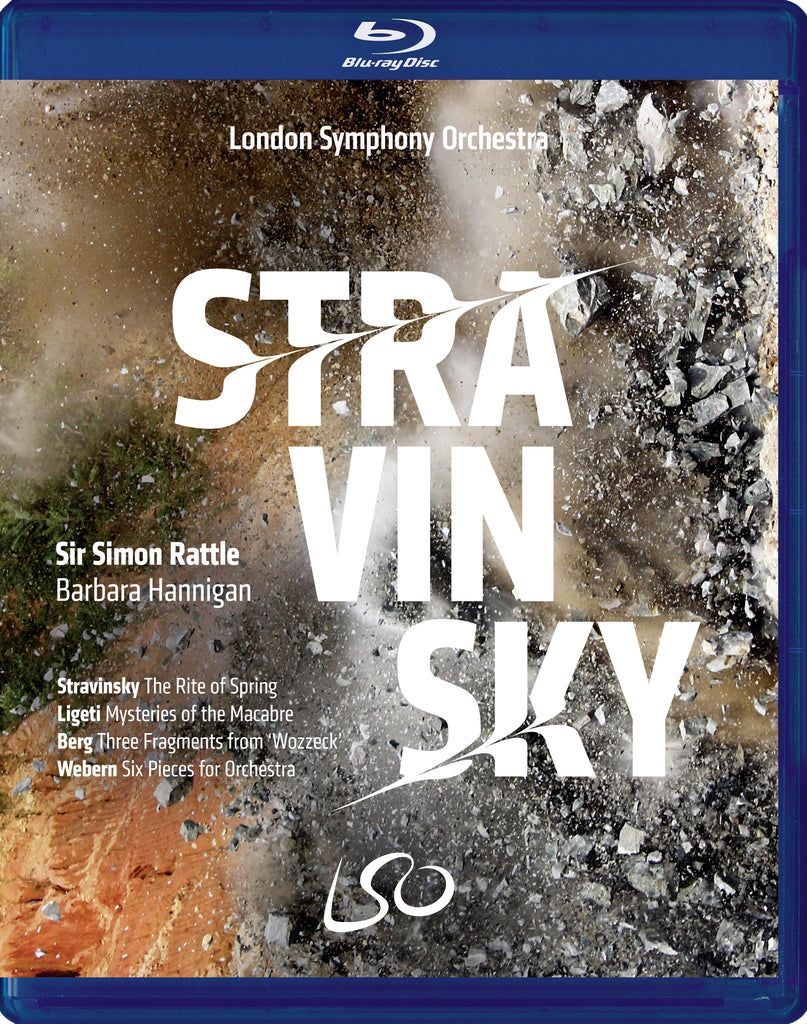 Catalogue Number LSO3028
UPC 822231302896

Olivier Simonnet director
Nicholas Parker audio producer
Filmed at the Barbican Hall, January 2015

Format

Blu-ray + DVD | 2 disc standard Blu-ray case
Audio 2.0 stereo | 16 bit 48 kHz PCM
Notes in En, Fr, Ge
Total playing time: 125m

BBC Music Magazine's Orchestral Choice
Performance: ★★★★★ Picture & Sound: ★★★★ 'Every nuance is crafted, each detail considered, yet there is still a sense of danger and visceral power.'

★★★★ 'Beastly modern music at its best.'
The Daily Telegraph

'Rattle's Rite is an imposing beast, lacking nothing for impact or sinuous grace.'
Gramophone

'[Rattle's Rite is] transfixing but dangerous … [in the Ligeti, Hannigan] sings music of impossible difficulty with incisive wit.'
The Bay Area Reporter

'A superb performance by a virtuoso orchestra and conductor on top of their collective game.'
MusicWeb International

'[Hannigan] delivers a performance of split-second accuracy.'
Classical Music

'[Rattle's] finest reading yet of the piece.'
Classical CD Choice

'Highly entertaining.'
Classical CD Review

Concert reviews

★★★★ 'In this modernist programme, Sir Simon Rattle and the LSO seemed a better match than ever.'
The Telegraph

★★★★ 'Simon Rattle marshalls an impressive Rite of Spring.'
The Guardian

★★★★ 'Ligeti's slice of absurdist nonsense is one of Hannigan's party pieces and it is hard to imagine anyone bringing it off with more pizzazz.'
The Financial Times

'Emotionally charged Webern, Berg and Ligeti.'
Bachtrack
£14.99
Sir Simon Rattle
London Symphony Orchestra
Sir Simon Rattle is joined by virtuoso soprano Barbara Hannigan for a modernist programme that showcases the immense capabilities of the London Symphony Orchestra.
At the heart of this concert is The Rite of Spring. Once decried, it is now a cornerstone of orchestral repertoire and considered by many to be the greatest work of the 20th century. Its elemental nature is best summed up by Stravinsky, who, in an unaccustomed moment of humility, said that he didn't feel he was the composer of the piece, but simply the vessel through which it passed. Sir Simon Rattle says: 'I've been conducting it since I was 19...it's one of those pieces that reminds you what the shock of the new is about and it's still one of the great challenges and one of the great thrills to perform.'
To accompany Stravinsky's magnum opus Rattle chose music from the Second Viennese School. Webern's Six Pieces for Orchestra was given a 'richly expressive and pictoral performance', while Barbara Hannigan, appropriately dressed in a blood red gown, embodied the role of Marie in three fragments from Berg's potent opera Wozzeck. As well as the Berg, Hannigan also debuted a now famous version of one of her party pieces, Ligeti's kaleidoscopic Mysteries of the Macabre. Channeling Gepopo, the crazed chief of police from Le Grand Macabre, in three arias, this display of coloratura pyrotechnics drew gasps as well as laughter from the enthralled audience.
| | | |
| --- | --- | --- |
| Composers |   | Stravinsky, Ligeti, Berg, Webern |
| Conductor |   | Sir Simon Rattle |
| Soloists |   | Barbara Hannigan |
| Performers |   | London Symphony Orchestra |
---
Track list
Webern:
Six Pieces, I. Etwas Bewegte Achtel
Six Pieces, II. Bewegt
Six Pieces, III. Zart Bewegt
Six Pieces, IV. Langsam, Marcia Funebre
Six Pieces, V. Sehr Langsam
Six Pieces, VI. Zart Bewegt
Berg:
Three Fragments from 'Wozzeck': I. Soldaten Soldaten
Three Fragments from 'Wozzeck': II. Und ist Kein Betrug
Three Fragments from 'Wozzeck': III. Ringel Ringel Rosenkranz
Ligeti:
Mysteries of the Macabre
Stravinsky:
- 18. The Rite of Spring, I. L'adoration de la Terre
- 24. The Rite of Spring, II. Le Sacrifice
Related products