Schubert [arr. Mahler]: Death and the Maiden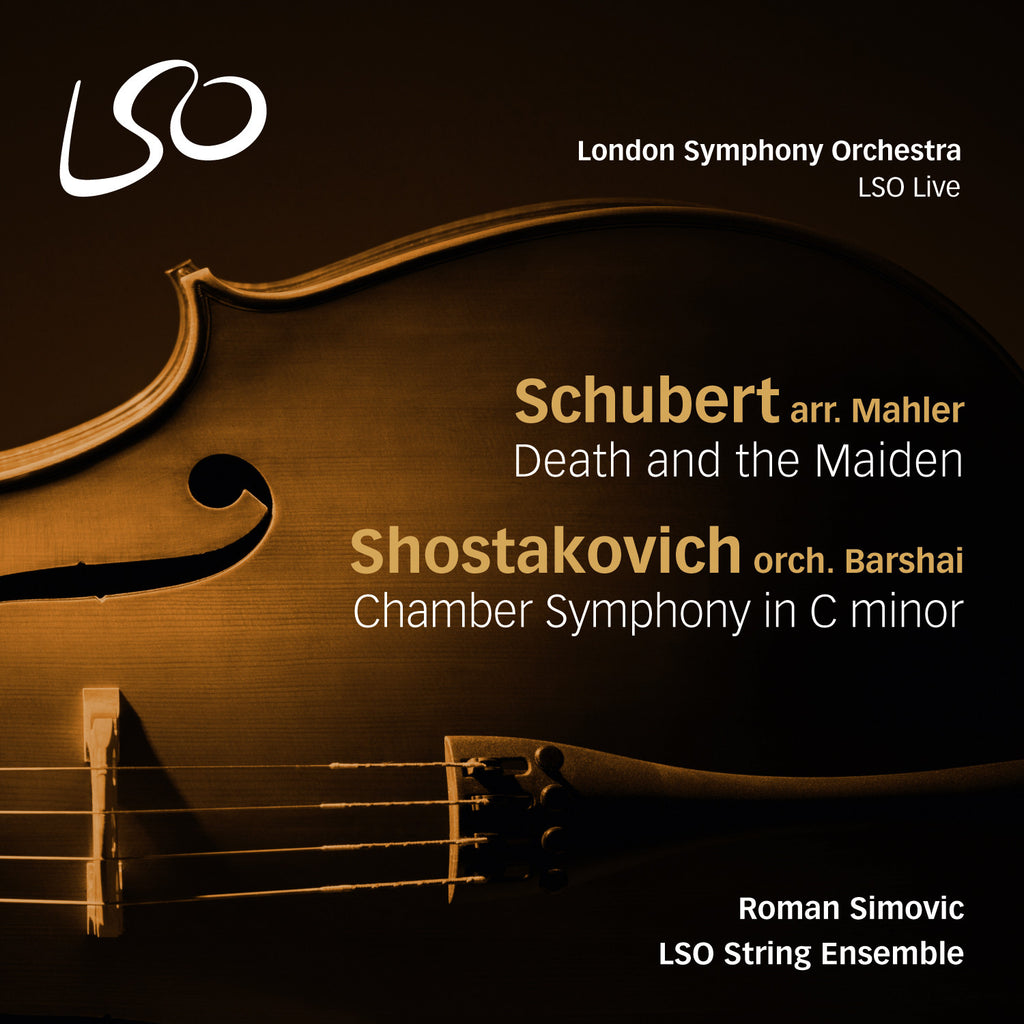 Catalogue Number LSO0786
UPC 822231178620

James Mallinson producer
Classic Sound Ltd engineering, editing, mixing & mastering
Recorded live in DSD, at the Barbican on the 26th April 2015

Format

SACD Hybrid
Layer 1 - 2.0 stereo + 5.1 surround mixes
Layer 2 - Standard CD audio

Total playing time 88m 03s
Booklet notes in English, French and German
Texts in original language with translation

'[Mahler] has rarely been given such a muscular and emotional reading as it receives here, with the rich LSO string sound captured with fidelity in a forceful surround sound recording…the new LSO Live disc is a tempting proposition if you're attracted to this particular coupling.'
Classical CD Choice

'The second movement's reprise of the Jewish-inflected dance from the Second Piano Trio rages full-bloodedly [and] the recollection of Lady Macbeth of Mtsensk emerges as the heart of the piece.'
Gramophone

'The LSO's string playing with leader-violinist Roman Simovic is out of this world in almost every respect, from polish to immediacy of impact.'
Herald Scotland
£8.99
Roman Simovic & LSO String Ensemble
---
The LSO String Ensemble, led by LSO leader Roman Simovic, gives magnificent performances of Schubert (arr. Mahler) String Quartet No 14 Death and the Maiden and Shostakovich (orch. Barshai) Chamber Symphony in C minor.
Schubert's Death and the Maiden Quartet, heard here in Mahler's stunning arrangement, is one of the most popular pieces in the repertoire. The original Quartet was written soon after Schubert had suffered from a significant period of illness, and some have speculated that it is the composer's testament to death. The piece gains its title from the second movement, which is a set of five variations based on the melody of one of Schubert's most poignant songs, Death and the Maiden, in which a girl struggles against the terror of impending death, that 'grisly man of bone', who casts himself as a welcome friend.
The Chamber Symphony in C minor is an arrangement for string orchestra of Shostakovich's String Quartet No 8, prepared with the composer's approval by the violist, conductor, and founder of the Moscow Chamber Orchestra, Rudolf Barshai. Shostakovich's Eighth Quartet was written over just three days in 1960 and the composer, deeply depressed at that time, initially intended it to be his last work. The piece is full of quotations that hold a deeply personal significance, including a motif from Tchaikovsky's Pathétique Symphony, and references to several of Shostakovich's own works. Most strikingly, Shostakovich's initials 'DSCH' are embedded throughout the entire work, giving the piece an intensely personal musical fingerprint.
This performance was recorded live at the Barbican on 26 April 2015 as part of the LSO International Violin Festival. The LSO String Ensemble were filmed in 360 VR during this performance. 
---
| | | |
| --- | --- | --- |
| Composers |   | Schubert, Shostakovich |
| Leader |   | Roman Simovic |
| Performers |   | LSO String Ensemble |
---
Track list
1.
String Quartet No 14, 'Death and the Maiden', D 810: i. Allegro
2. 
String Quartet No 14, 'Death and the Maiden', D 810: ii. Andante con moto
3. String Quartet No 14, 'Death and the Maiden', D 810: iii. Scherzo: Allegro molto 
4. String Quartet No 14, 'Death and the Maiden', D 810: iv. Presto
5. Chamber Symphony in C minor, Op. 110a: i. Largo
6. Chamber Symphony in C minor, Op. 110a: ii. Allegro molto
7. Chamber Symphony in C minor, Op. 110a: iii. Allegretto
8. Chamber Symphony in C minor, Op. 110a: iv. Largo
9. Chamber Symphony in C minor, Op. 110a: v. Largo
Related products