Szymanowski: Symphonies Nos 3 & 4, Stabat Mater [download]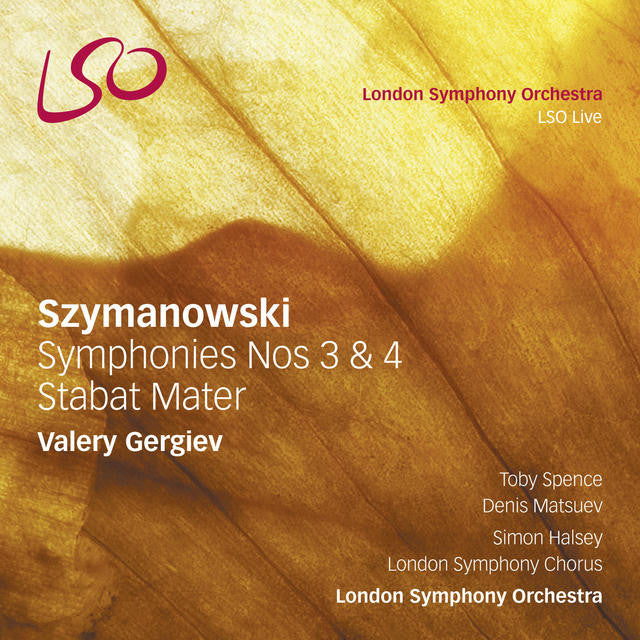 Catalogue Number LSO0739
UPC 822231173922


James Mallinson producer
Neil Hutchinson for Classic Sound Ltd balance engineer

Recorded live in DSD at the Barbican, December 2012 & March 2013

Formats

Stereo FLAC 24 bit 96 kHz
Stereo MP3 320 kbps

Notes in English / en français / auf Deutsch

Sung in Polish, text in Polish with English translation

ResMusica's La Clef du Mois

**** 'LSO offers another in its stellar series of works by this essential composer … If you already have the equally impressive recording of the first two symphonies with Gergiev and London (also on LSO Live) this one is an essential addition.'
Audiophile Audition

**** 'Gergiev and the LSO revel in the rich tapestry of sound, while Toby Spence is impressively ecstatic in his high solo lines. Pierre Boulez may have coolly revealed every strand of Szymanowski's orchestral texture, but Gergiev seems more in touch with the composer's exotic world.'
Limelight

'A hothouse performance of Symphony No. 3, where the tenor Toby Spence, the London Symphony Chorus and lush-sounding LSO all combine to capture the orientalist tone.'
BBC Music Magazine

'Valery Gergiev leads the LSO and luxury-cast soloists in this irresistible album featuring Szymanowski's heady, perfumed Third Symphony and Stabat Mater.'
Sinfini Music

'Gergiev handles his forces with an expert hand and the work's huge climaxes are unflinchingly delivered by the recording.'
Classical CD Choice

'Matsuev excels in this music and his piano tone is crystal clear. The London Symphony play their part equally well with much orchestral detail coming through winningly.'
Music Web International
£5.99
Valery Gergiev
London Symphony Orchestra
---
This second, star-studded instalment of Gergiev's Szymanowski cycle features Toby Spence as soloist in the Third Symphony, 'Song of the Night' and internationally renowned pianist, Denis Matsuev in the virtuosic 'Symphonie concertante', Symphony No 4. Szymanowski's deeply personal choral work, Stabat Mater, completes the cycle and stars Sally Matthews and Ekaterina Gubanova, and introduces the young baritone, Kostas Smoriginas to LSO Live listeners.
For decades Szymanowski's music was rarely heard outside Poland. Today, he is recognised as one of Poland's greatest musical figures. His desire to embody the music of his native land and his incorporation of the folkloric sounds of the Polish mountains make his orchestral works a must for anyone with an interest in Polish culture and music.


Supported by the Adam Mickiewicz Institute as part of the Polska Music Programme.
---
Composer
 
Szymanowksi
Conductors
 
Valery Gergiev, Simon Halsey
Performers
 
London Symphony Chorus,
London Symphony Orchestra
Soloists
 
Toby Spence, Denis Matsuev, Sally Matthews, Ekaterina Gubanova, Kostas Smoriginas
---
Track list
1. Symphony No 3: I. Moderato assai
2. Symphony No 3: II. Allegretto tranquillo
3. Symphony No 3: III. Largo
4. Stabat Mater: I. Stabat mater dolorosa
5. Stabat Mater: II. Quis est homo qui non fleret
6. Stabat Mater: III. O, Eia, Mater, fons amoris
7. Stabat Mater: IV. Fac me tecum pie flere
8. Stabat Mater: V. Virgo virginum praeclara
9. Stabat Mater: VI. Christe, cum sit hinc exire
10. Symphony No 4: I. Moderato – Tempo comodo
11. Symphony No 4: II. Andante molto sostenuto
12. Symphony No 4: III. Allegro non troppo, ma agitato ed ansioso

---
Related products