Beethoven: Mass In C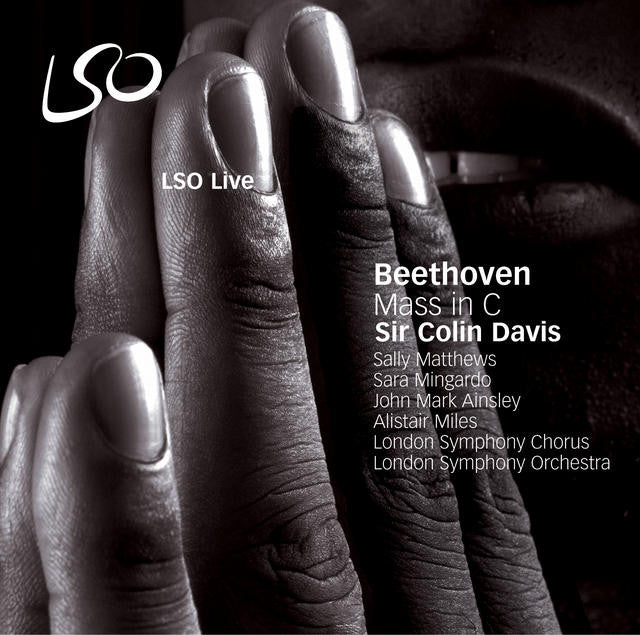 Catalogue Number LSO0594
UPC 822231159421


James Mallinson producer
Jonathan Stokes and Neil Hutchinson for Classic Sound Ltd
sound engineers

Recorded February 2006, Barbican, London


DSD (Direct Stream Digital) recording
Notes in English / en français / auf Deutsch
Text in Latin / German with English translation
Sung in Latin (Mass in C) / German ('O welche Lust!')

'Colin Davis leads a superb quartet of soloists and brings out all the humanity and tenderness of the music with his customary skill. The London Symphony Chorus responds brilliantly... another winner from LSO Live.'
Classic FM Magazine

'A dramatic performance of a dramatic work.'
International Record Review

'Davis's latest LSO Live recording of Beethoven's Mass in C is excellent and blessed with exceptional soloists. He continually brings out the many pre-echoes of the Missa solemnis and draws deeply committed playing from his orchestra and highly polished singing from the chorus.'
Mail on Sunday

'This LSO Live release should appeal to anyone who dismisses Beethoven's Mass in C as an inferior 'work in progress' step towards the mighty Missa solemnis. Sir Colin Davis treats Beethoven's earlier setting with as much reverence, expressive depth and commitment as is usually reserved for its successor ... The chorus is consistently impressive, its large size belied by superb homogeneity and precision. The soloists are as strong and well-rounded a quartet as have ever been assembled for this work, blending beautifully in. Davis's expert direction lovingly picks out a wealth of inner detail that often slips by unnoticed.'
Classical Source
£8.99
Sir Colin Davis, London Symphony Orchestra
---
Commissioned by Prince Nikolaus Esterházy II to celebrate his wife's name-day in 1807, Beethoven's early Mass in C contains some of the composer's most sublime music for voices. Although his original treatment of the text distressed the Prince at its premiere, the Mass is now regarded as one of Beethoven's most moving works.
---
Composer
 
Beethoven
Conductor
 
Sir Colin Davis
Performers
 
London Symphony Chorus,
London Symphony Orchestra
Soloists
 
Sally Matthews, Sara Mingardo, John Mark Ainsley, Alastair Miles
---
Track list
1. Mass in C Major: Kyrie
2. Mass in C Major: Gloria
3. Mass in C Major: Credo
4. Mass in C Major: Sanctus
5. Mass in C Major: Benedictus
6. Mass in C Major: Agnus Dei
7. Fidelio: O Welche Lust!

---
Related products