Paganini: 24 Caprices [download]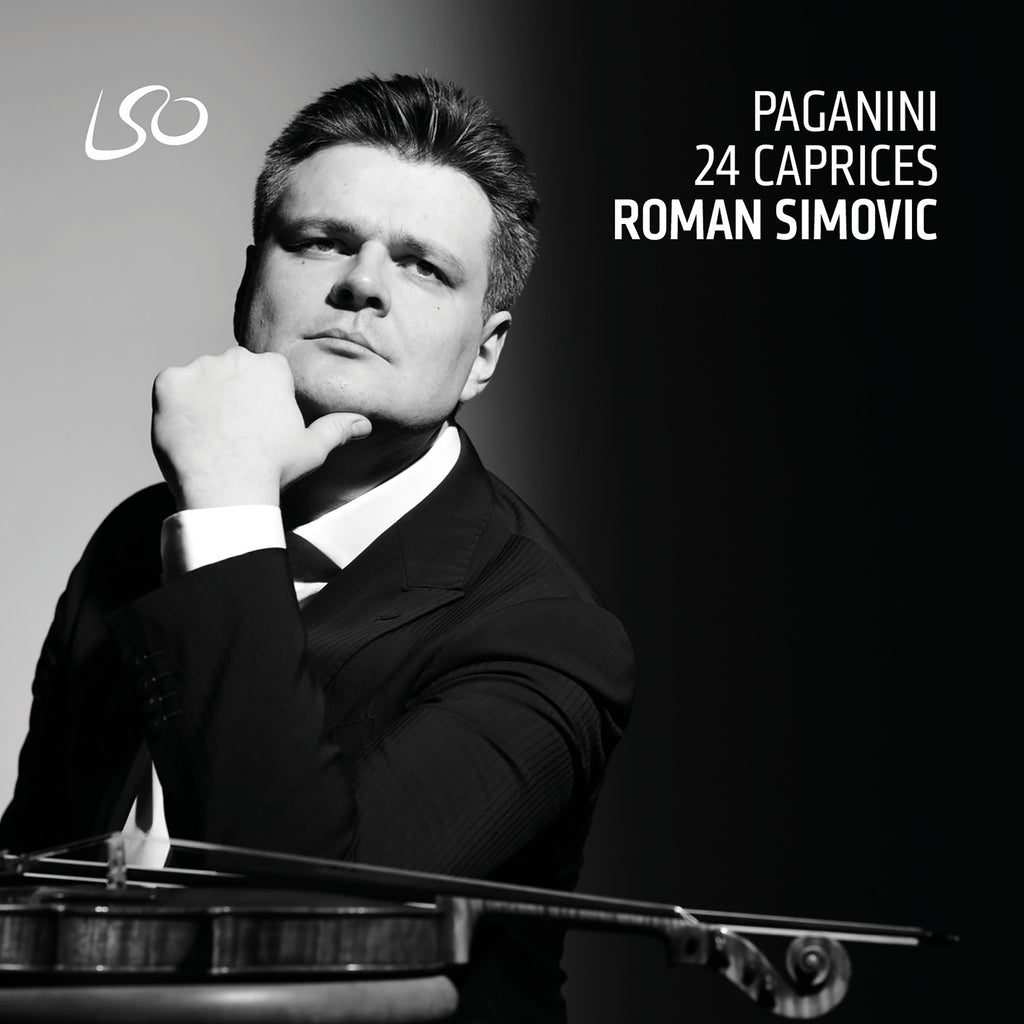 Release date: 25 May 2018
LSO5083-D | 822231508366

16 bit 44.1 kHz FLAC | 320 kbps MP3

Booklet notes in English, French and German

Producer & engineer: Slobodan Misailovic
Editing: Milan Prokop
Recorded at Studio M, Novi Sad, Serbia, 2007

Performance **** Recording ***** 'There are delights here: the teasing 'Devil's Laughter' of the 13th caprice…where both Paganini and Simovic to up their game, in terms of imagination and variety.'
BBC Music Magazine

***** 'Simovic colours each [Caprice] with its own character and hue… jaw-dropping.'
The Scotsman

'For a recording that is as musically involving as it is technically dazzling, he has few rivals.'
The Strad

'This is a fine solo disc debut and one that offers a genuine and quality alternative to the existing pile.'
Gramophone

'This is what is sounds like when a player moves beyond the technical demands of a work and becomes a vehicle for the essence of the music.'
Strings Magazine

'[Simovic] shows the astonishing variety of these works… breathtakingly worthwhile.'
The Guardian

'The whole superb rendition can be listened to for pure pleasure.'
The Times

'Whether beautifully tuned chords and octaves, dramatic double and triple stopping, left hand pizzicato, gorgeously tactile vibrato at the close of phrases, Simovic delivers it all spectacularly.'
Audiophilia

'Simovic's brilliant virtuosity and innate musicality allow him to take risks only few can hazard.'
Teatri Online
£7.99
Roman Simovic
---
For his debut solo album, the Leader of the London Symphony Orchestra showcases his virtuosity and innate musicality, navigating the technical and artistic challenges of Paganini's 24 Caprices for solo violin. Staples of the violinist's impressive repertoire, as a budding musician Simovic would practice these works daily in place of scales, and has gone on to delight audiences with performances across the globe.
While Paganini's 24 Caprices were intended to improve and strengthen technique, they are more commonly used to determine the wheat from the chaff, their demanding, high speed passages pushing players to their limits. With its fast scales and arpeggios, double and triple stops, and left-hand pizzicato, the final caprice is widely considered one of the most technically challenging violin pieces ever written, and is the composer's final published work for solo violin.
| | | |
| --- | --- | --- |
| Composer |   | Nicolò Paganini |
| Soloist |   | Roman Simovic |
---
Track list
Vol 1: Caprices for Solo Violin, Op 1:
1. No 1 in E Major, 'L'Arpeggio': Andante
2. No 2 in B Minor: Moderato
3. No 3 in E Minor: Sostenuto - Presto - Sostenuto
4. No 4 in C Minor: Maestoso
5. 
No 5 in A Minor: Agitato
6. No 6 in G Minor, 'The Trill': Lento
7. No 7 in A Minor: Posato
8. No 8 in E-Flat Major: Maestoso
9. No 9 in E Major, 'La chasse': Allegretto
10. No 10 in G Minor: Vivace
11. No 11 in C Major: Andante - Presto - Andante
12. No 12 in A-Flat Major: Allegro
Vol 2: Caprices for Solo Violin, Op 1:
13. No 13 in B-Flat Major, 'Devil's Laughter': Allegro
14. No 14 in E-Flat Major: Moderato
15. No 15 in E Minor: Posato
16. No 16 in G Minor: Presto
17. No 17 in E-Flat Major: Sostenuto - Andante
18. No 18 in C Major: Corrente - Allegro
19. No 19 in E-Flat Major: Lento - Allegro Assai
20. No 20 in D Major: Allegretto
21. No 21 in A Major: Amoroso - Presto
22. No 22 in F Major: Marcato
23. No 23 in E-Flat Major: Posato
24. No 24 in A Minor: Tema con Variazioni (Quasi presto)
Related products