Reich: Sextet, Clapping Music, Music for Pieces of Wood [download]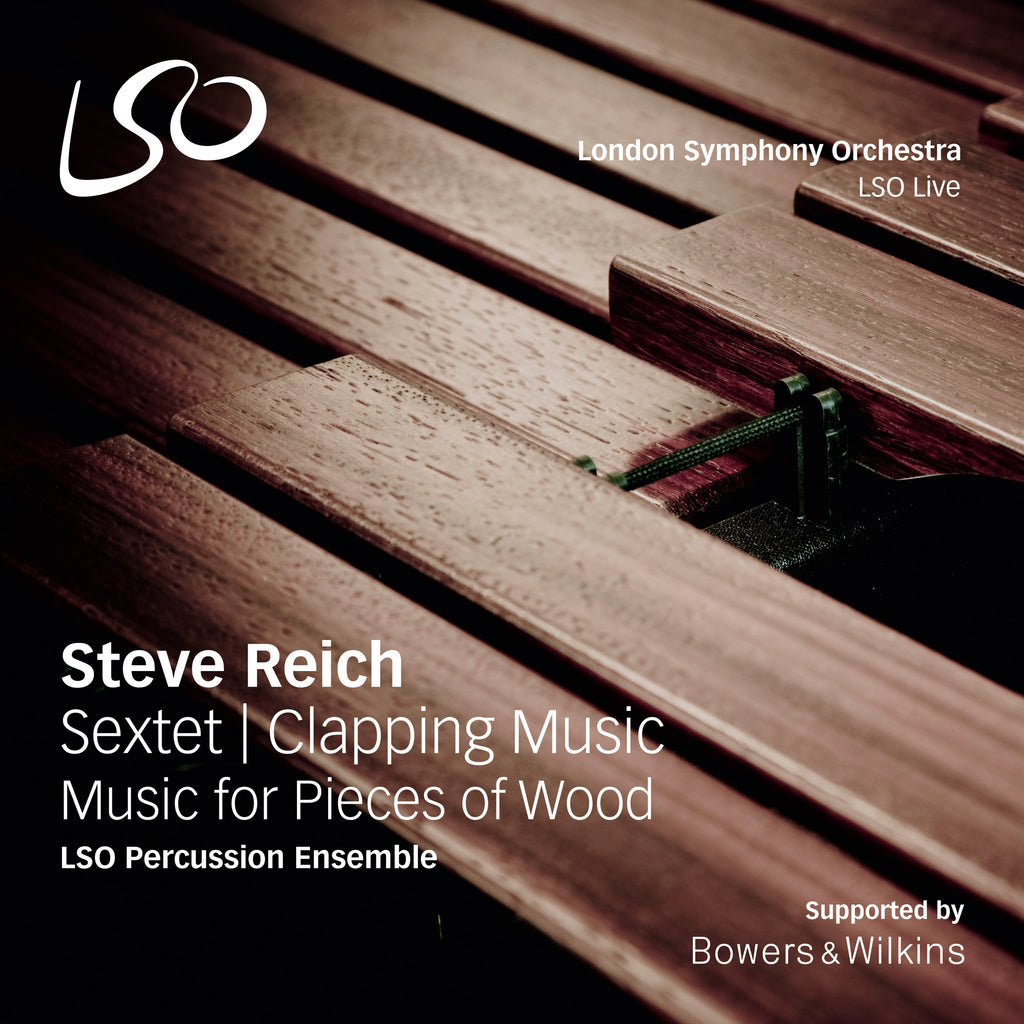 Catalogue Number

LSO5073

UPC

822231507321

James Mallinson

producer

Neil Percy & Sam Walton

executive producers

Classic Sound Ltd

engineering, editing, mixing & mastering

Recorded live in

DSD

, at the Barbican on the 30th October 2015

Format

FLAC stereo 24 bit 96 kHz
MP3 stereo 320 kbps

Total playing time

43m 03s

Booklet notes in English, French and German

Performance: ***** Recording: ***** 'The performances and the recorded sound are so outstanding…Unreservedly recommended.'
HR Audio

Performance: ***** Recording: **** 'The LSO Percussion Ensemble's riveting recording [of Music for Pieces of Wood] has the bonus of being live. Moreover, they take it very fast [yet] accomplish it brilliantly. I've found Sextet heavy and congested in the past: not here. They achieve a wonderfully transparent weave through which the bowed marimba notes shine like rays of light through water.'
BBC Music Magazine

***** 'Reich provided one pair of hands, the LSO's percussionist Neil Percy the other. It was intriguing to see how something so mechanical could be so revealing of character, and how the patterns appeared to change before our very ears.'
The Telegraph

**** 'The music on this CD is an excellent way of experiencing minimalism and its growth by sampling Reich's music over a fifteen year period from 1972 to 1985… The performances and recording are excellent.'
Audiophile Audition

'Pieces of Wood is given an excellent rendition on this live recording, as if the precise mechanism of a complex clock had been carefully deconstructed before being pieced back together. The LSO percussion's performance of Sextet also builds up in energy and momentum to a quite thrilling climax.'
Gramophone

'A faultless account of what must surely be a most challenging piece for performers.'
Classical CD Choice

'The LSO recording has a gauzy quality that makes the work's keyboard and percussion timbres sound seamlessly blended.'
Wall Street Journal
£5.99
LSO Percussion Ensemble
---
LSO Live explore the music of America's most influential living composer with performances of three of his most iconic works: Sextet, Clapping Music and Music for Pieces of Wood.
Employing Reich's universally recognisable soundworld, Sextet uses hypnotic repetitions of a sequence of harmonies, which gradually overlap and interweave, resulting in a complex yet utterly compelling musical landscape. Introducing more dissonance and aggressive rhythms than previous compositions, the relationship of the five movements is that of an arch form, A-B-C-B-A. Changes in tempo are made abruptly at the beginning of new movements by metric modulation and sections are also organised harmonically with a chord cycle for the first and fifth. Reich says of the work – 'The ambiguity here is between which is melody and which is accompaniment. In music that uses a great deal of repetition, I believe it is precisely these kinds of ambiguity that give vitality and life'. 
Composed in 1972, Clapping Music strips back to the bare essentials, taking traditional African rhythms as its starting point. Conceived from a desire to compose music 'that would need no instrument beyond the human body' it is perhaps the most elemental example of phasing in the composer's catalogue. The whole work consists of a single rhythmic cell which becomes staggered as the work progresses, creating an entrancing and hypnotic effect. Having previously performed the work with the composer, Neil Percy, LSO Principal Percussionist, delivers an inspired performance alongside his LSO Co-Principal, Sam Walton.
Music for Pieces of Wood takes this concept a step further, adding pitches, in the form of claves tuned A, B, C#, D# and D# an octave above. The claves are chosen for their resonant timbre and the piece is one of the loudest the composer has written, despite using no amplification whatsoever.
Neil Percy, says of his relationship with these pieces and the composer – 'The thing I enjoy most about playing the music of Steve Reich is its diversity, its complexity, its challenging nature… We've played so many pieces of Steve's over the years with him being present, so it's got a very personal set of challenges that I find completely irresistible. That's why, on this particular project for LSO Live, we tried to put together a programme that reflected all of the pieces that the group themselves really like to play.'
---
| | | |
| --- | --- | --- |
| Composer |   | Reich |
| Performers |   | LSO Percussion Ensemble |
---
Track list
1. Clapping Music
2. Music for Pieces of Wood
3. Sextet: I. Crotchet = 192
4. Sextet: II. Crotchet = 96
5. Sextet: III. Crotchet = 64
6. Sextet: IV. Crotchet = 96
7. Sextet: V. Crotchet = 192

---
Related products