Brahms: Symphonies Nos 3 & 4 [download]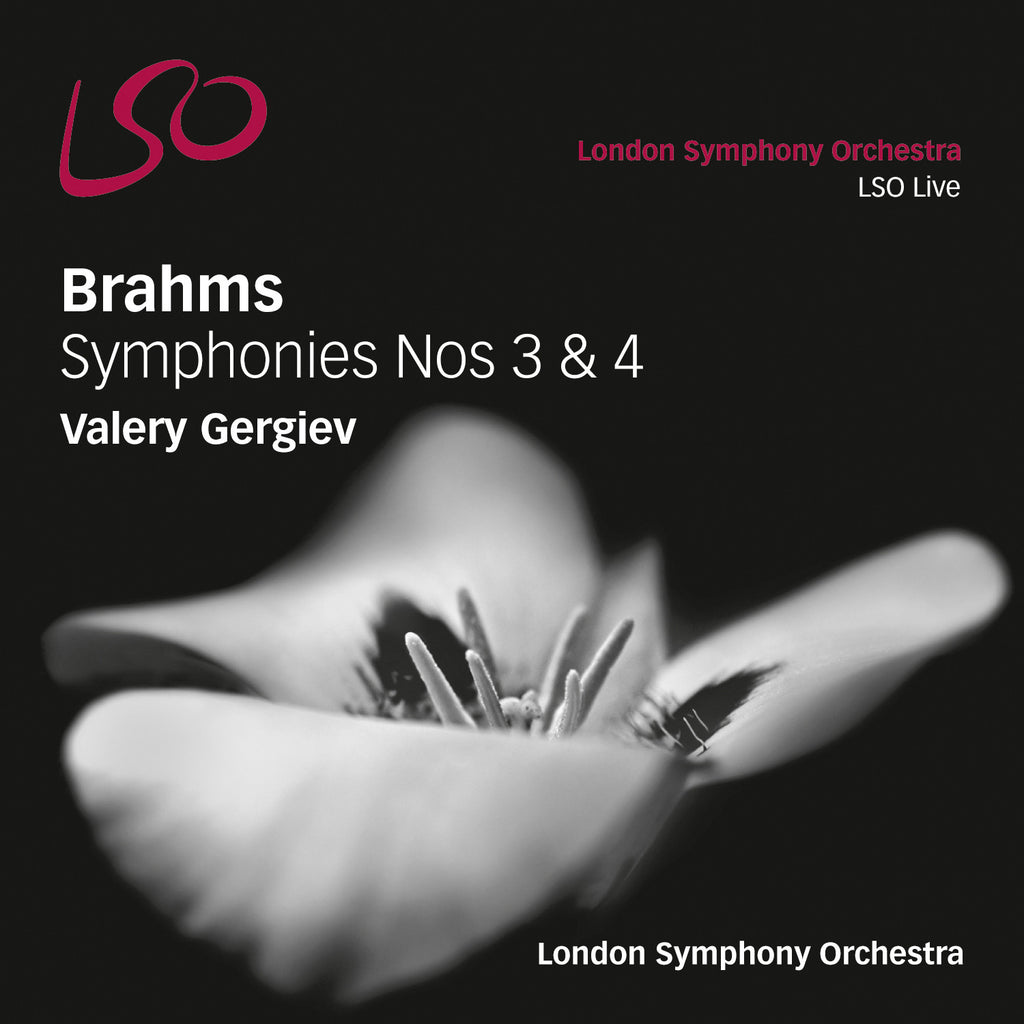 Catalogue Number LSO0737
UPC 822231173724


James Mallinson producer
Jonathan Stokes for Classic Sound Ltd,
engineering, mixing & mastering

Symphony No 3 recorded 11 & 18th December 2012, Barbican, London
Symphony No 4 recorded 12 & 19 December 2012, Barbican, London

DSD (direct stream digital) recording
2.0 Stereo and multi-channel 5.0
Total playing time 76m

Jewel case with clear tray. 16pp booklet. Notes in English / en français / auf Deutsch

'Gergiev's powerful performance of the Brahms 3rd Symphony is quite impressive with some notably fine wind and brass playing throughout from the LSO and his division of violins antiphonally helps to keep the textures of Brahms's more densely scored passages clear.'
Classical CD Choice

'The total package is quite seductive; in fact, both of these are among my favourite recordings of the Brahms symphonies.' Fanfare

'Gergiev brings an expressive flexibility to [Brahms'] phrasing.'

BBC Music Magazine

'This pairing of Brahms's Third and Fourth conducted by Gergiev is a great example of how a recording can have both focus and a live ambience.'
Gramophone

'[Gergiev] inevitably rises to the occasion.'
Audiophile Audition
£6.99
Valery Gergiev, London Symphony Orchestra
---
Valery Gergiev and the London Symphony Orchestra bring to a close their celebrated Brahms' cycle with the release of Brahms Symphonies Nos 3 and 4.
Brahms is often associated with the idea of abstract music, free of literary models or autobiography, but with the Third the composer wrote in many ways his most personal symphony.
Composed at a mountain retreat in 1884, about a year after completing the Third, Brahms' architectural musical skill is nowhere more evident than in his Fourth and final symphony, employing Baroque contrapuntal techniques and chromatic labyrinths and described by Hans von Bülow as having the feeling of 'being given a beating by two incredibly intelligent people.'
---
| | | |
| --- | --- | --- |
| Composer |   | Brahms |
| Conductor |   | Valery Gergiev |
| Performers |   | London Symphony Orchestra |
---
Track list
1.
Symphony No 3 in F Major: I. Allegro con brio
2.
Symphony No 3 in F Major: II. Andante
3.
Symphony No 3 in F Major: III. Poco allegretto
4.
Symphony No 3 in F Major: IV. Allegro
5. Symphony No 4 in E Minor I. Allegro non troppo
6. Symphony No 4 in E Minor II. Andante moderato
7. Symphony No 4 in E Minor III. Allegro giocoso
8. Symphony No 4 in E Minor IV: Allegro energico e passionato
Related products