NAZARENO! Bernstein, Stravinsky, Golijov [download]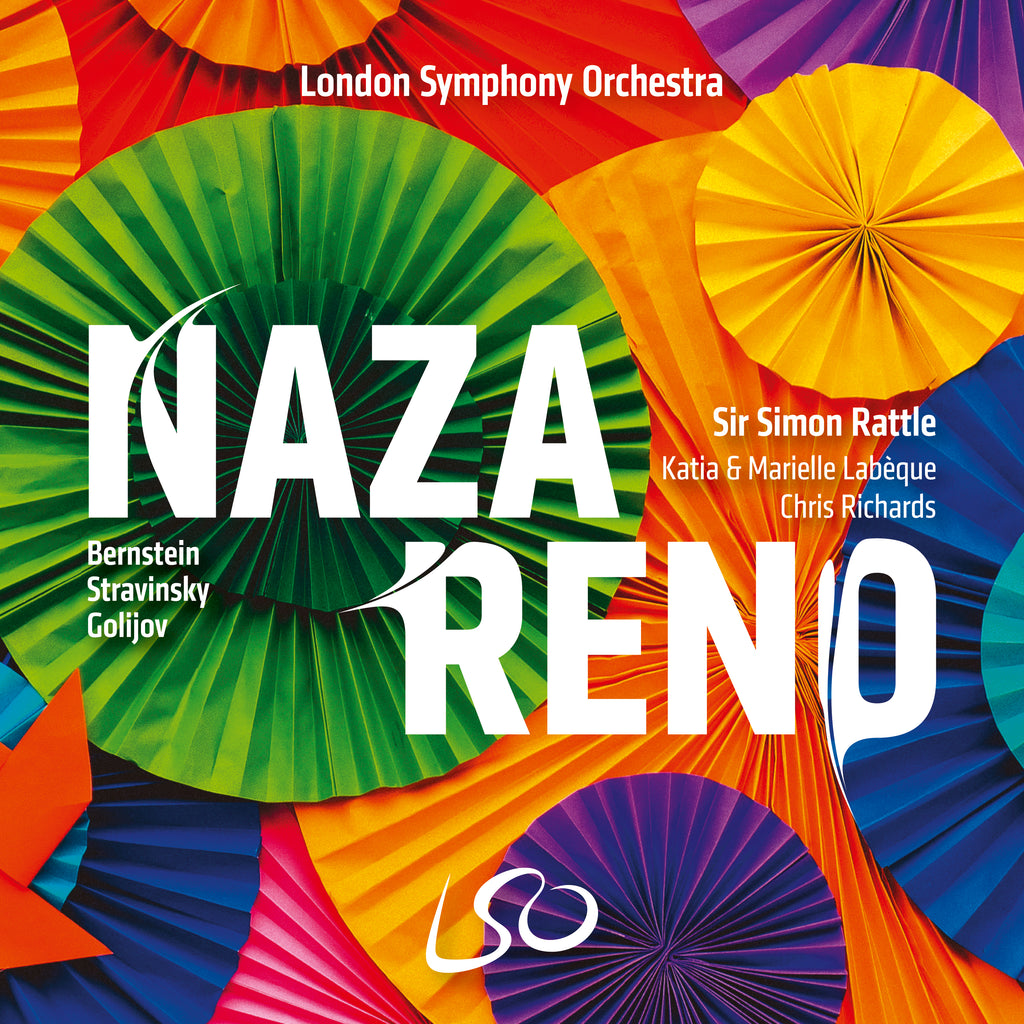 Release date: 13 May 2022
LSO0836 | 0822231183624

Booklet in English, French & German


Producer: Andrew Cornall
Engineers: Classic Sound
Recorded Barbican Hall, London
December 2018

'One of the most gratifying recordings of the Rattle era thus far, the album is a joyous addition to the LSO Live catalogue; inspired musical teamwork at its finest.'
– AIM Adventures in Music

'Rattle, the LSO and the Labèques give this music all the power, precision and stirring intensity it needs to be unforgettable.'
– Pizzicato

'Throughout, the aural colour is uplifting and the rhythmic precision outstanding, culminating in an album that bristles with joyous sounds.'
–Yorkshire Times
£10.99
Sir Simon Rattle
London Symphony Orchestra 
---
Celebrating the union of classical and jazz, LSO Live's latest release encapsulates the very best of the two genres with an irresistible selection of works by Bernstein, Stravinsky and Golijov, conducted by Sir Simon Rattle.

Argentinian tango and jazz course through Golijov's vibrant Nazareno. Superstar piano duo Katia and Marielle Labèque are flanked by brass, percussion and cello in this special arrangement for two pianos and orchestra by Gonzalo Grau.

LSO Principal Clarinettist Chris Richards steps into the spotlight in Stravinsky's Ebony Concerto. The work is an era-defining amalgamation of jazz and classical, reflecting back the variety of a rapidly changing world, at turns frenetic and agitated, mournful and bluesy. This fluidity extends into Bernstein's Prelude, Fugue and Riffs—an exuberant display of contrasting musical ideas, harmoniously intertwined together.
Composers
 

Leonard Bernstein, Igor Stravinsky,
Osvaldo Golijov


Conductor
 

Sir Simon Rattle


Soloists
 

Katia and Marielle Labèque (pianos)
Chris Richards (clarinet)
Gonzalo Grau (Latin percussion)
Raphaël Séguinier (Latin percussion)


Performers
 

London Symphony Orchestra

---
Track list
Leonard Bernstein Prelude, Fugue and Riffs

1. I. Prelude for the Brass
2. II. Fugue for the Saxes
3. III. Riffs for Everyone

Igor Stravinsky Ebony Concerto

4. I. Allegro moderato
5. II. Andante
6. III. Moderato - Con moto - Moderato - Vivo - Same tempo

Osvaldo Golijov (arr. Grau) Nazareno

7. I. Berimbau
8. II. Tambor en blanco y negro
9. III. Guaracha y Mambo
10. IV. Sur
11. V. Tormenta y Quitiplá
12. VI. Procesión

Related products