Rachmaninoff: All-Night Vigil (Vespers)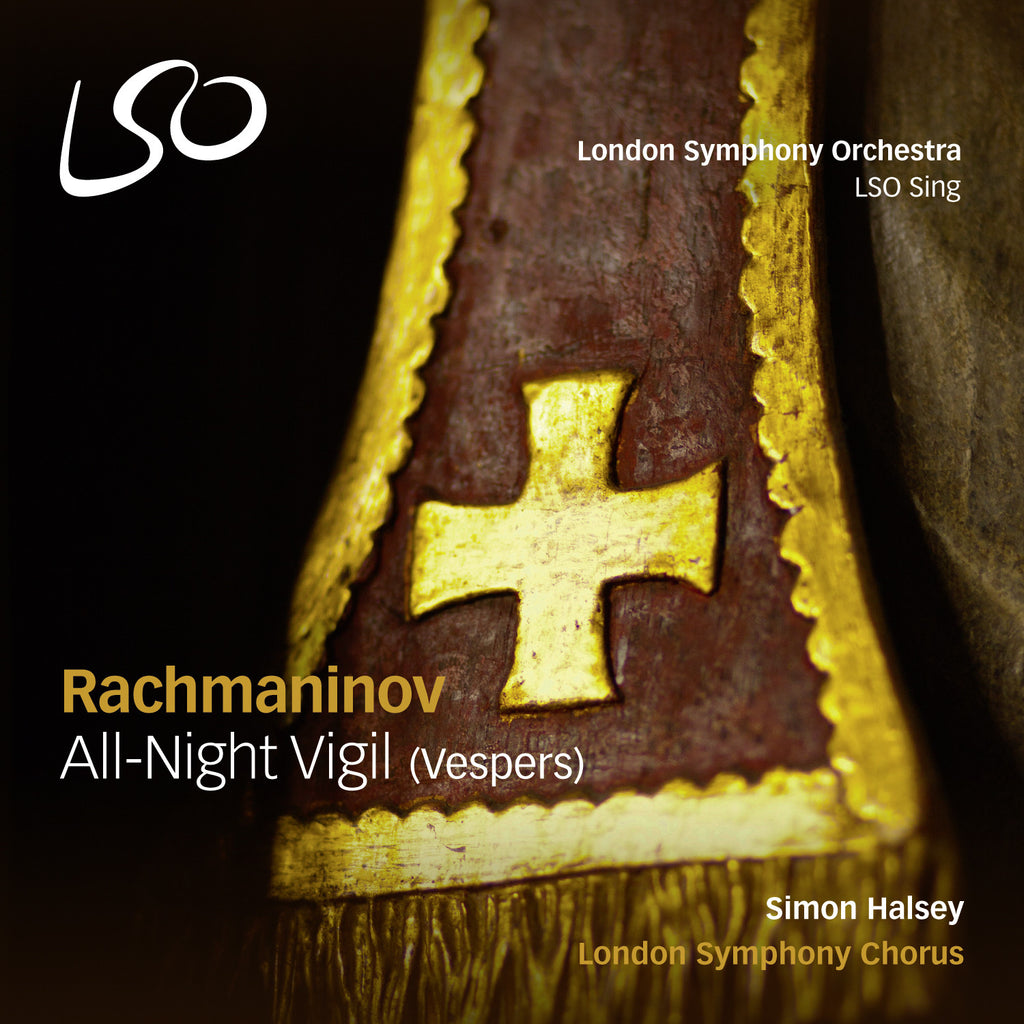 Catalogue number LSO0781
UPC 822231178125

James Mallinson producer
Classic Sound Ltd engineering, editing, mixing & mastering
Recorded live in DSD 128fs, at the Barbican, London

FORMAT

SACD Hybrid
Layer 1: HD SACD audio, 2.0 stereo + 5.1 surround mixes
Layer 2: 16bit 44.1kHz CD audio

Total playing time 53m28s
Booklet notes in English / Notes de programme en français /
Einführungstexte auf Deutsch
Texts in Russian (transliteration) with English translation

***** 'The Chorus' merits are well known in the concert hall and on other notable LSO Live CDs, but even by their standards this recording of Rachmaninov's All-Night Vigil is something of a jewel.'
Choir and Organ

***** 'This one has a lot to offer.'
Audiophile Audition

'The London Symphony Chorus, under Simon Halsey, show not only evidence of great familiarity with the performing and recorded tradition of the work in terms of pacing and rhetoric, but also an injection of peculiarly British choral timbre, which brings a welcome and different perspective.'
Gramophone

'If you are among the Rachmaninov enthusiasts who love the work, it's hard to imagine it given a better reading than that delivered by Halsey and his LSO forces.'
Classical CD Choice

'The London Symphony Chorus and conductor, Simon Halsey, expertly realised Rachmaninov's technical composition with energy and passion.'
Russian Art and Culture

'So many magical moments.'
Seen and Heard
£7.99
Simon Halsey
London Symphony Chorus
---
In their first LSO Live spotlight release, the London Symphony Chorus deliver a passionate performance of Rachmaninoff's All-Night Vigil, under the baton of acclaimed LSO Choral Director, Simon Halsey.
Formed in 1966 to complement the work of the LSO, 2016 sees the London Symphony Chorus celebrate its 50th Anniversary as one of the UK's most well established choirs. Made up of over 160 amateur singers from all walks of life, the Chorus has recorded widely for LSO Live, the partnership resulting in several award winning releases - including three Grammy Awards, received for Berlioz Les Troyens and Verdi Falstaff. Hauntingly beautiful, All-Night Vigil is a cornerstone of the choral repertoire, its fifteen a cappella movements considered amongst the composer's finest achievements. 
Composed in 1915, against a backdrop of political turmoil in Russia and the early throes of The First World War, the sense of spiritual transcendence in the work may be interpreted as the composer's response to the chaos and suffering around him. While Rachmaninoff was no conventional believer, the rituals and traditions of the Orthodox Church were an essential part of his cultural background, evident in his use of chants from the Russian Church as the basis for ten of the work's fifteen sections. For the remaining five, Rachmaninov composed entirely new music, though these are so heavily influenced by tradition that it is near impossible to tell the difference.
Throughout All-Night Vigil, Rachmaninoff's immense compositional skill is on display - exploring a variety of textures, timbres, rhythms and registers, all of which are beautifully handled by the Choir and Simon Halsey.
---
| | | |
| --- | --- | --- |
| Composer |   | Rachmaninoff |
| Conductor |   | Simon Halsey |
| Performers |   | London Symphony Chorus |
---
Track list
1. Come, let us worship [Priidite, poklonimsia]
2. Bless the Lord, O my soul [Blagoslovi, dushe moya] 
3. Blessed is the man [Blazhen muzh]
4. Gladsome Light [Svete tihiy]
5. Lord, now lettest Thou Thy servant (Nunc Dimittis) [Nïne otpushchayeshï]
6. Rejoice, O virgin (Ave Maria) [Bogoroditse Devo, raduysia]
7. The Six Psalms (Introduction) – Glory be to God (The Lesser Doxology) [Shestopsalmiye]
8. Praise the Name of the Lord [Hvalite imia Ghospodne]
9. Blessed art Thou, O Lord [Blagosloven yesi, Ghospodi]
10. Having beheld the resurrection of Christ [Voskreseniye Hristovo videvshe]
11. My soul doth magnify the Lord (Magnificat) [Velichit dusha moya Ghospoda] 
12. Glory be to God on high (The Great Doxology) [Slavosloviye velikoye]
13. Troparion. Today hath salvation come [Tropar "Dnes' spaseniye"]
14. Troparion. Thou didst rise from the tomb [Tropar "Voskres iz groba"]
15. To Thee, the victorious leader [Vzbrannoy voyevode]
---
Related products