Scriabin: Symphonies Nos 3 & 4 [download]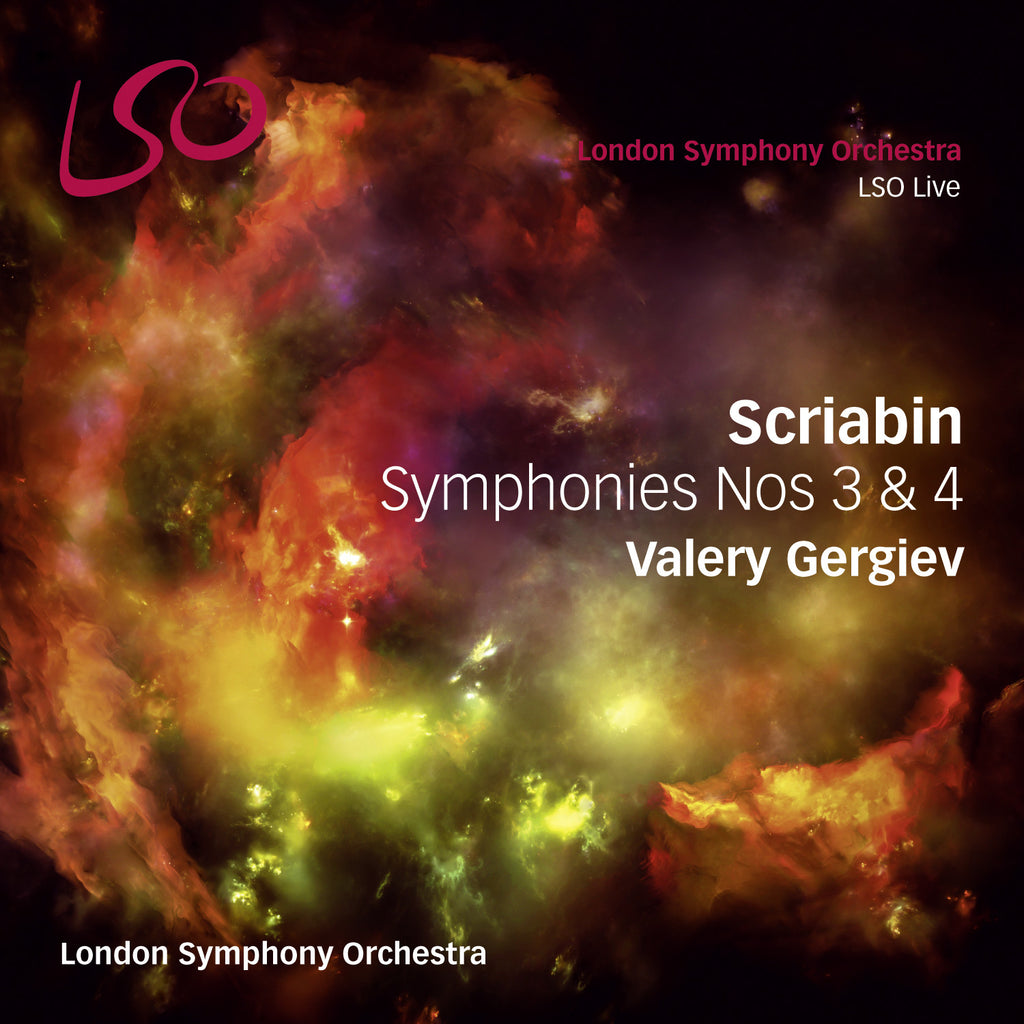 Catalogue Number LSO0771
UPC 822231177128

James Mallinson producer
Classic Sound Ltd engineering, editing, mixing & mastering

Recorded live in DSD 128fs, at the Barbican, London
Symphony No 3 recorded 13 April 2014
Symphony No 4 recorded 30 March 2014.

Formats

Stereo FLAC - 24bit 96kHz
Stereo MP3 - 320 kbps

Notes in English, French and German

Performance: ***** Multichannel recording: **** 'Strongly recommended.'
HRAudio.net

Performance: **** Recording: *** 'Gergiev has clearly taken a fresh look at the Third Symphony's score… [Gergiev] seems more interested in underlining the Russian colours and their influence on Stravinsky.'
BBC Music Magazine

***** 'Gergiev and the London Symphony Orchestra deliver the music with rhythmic precision and focused tone colours to bring across Scriabin's kaleidoscopic sound world with brilliance. The engineering is superb on this hybrid SACD, and the acoustics of London's Barbican add wonderful dimensions to the orchestra's lush and vibrant sound.'
Allmusic.com

**** 'Even sceptics may find it hard not to be swept along.'
IrishTimes.com

**** 'The London Symphony gives Gergiev much of the sound that would be expected from a top-flight Russian orchestra, and that is really quite an accomplishment.'
Infodad

**** 'Extremely delicate… [Gergiev's] vision is indeed completely orgiastic and engaging.'
Classica

'Gergiev delivers riveting accounts of both works on this SACD, and thanks to the magnificent playing of the 100-strong LSO, the compelling vision of his interpretations is realised to the full.'
Classical CD Choice

Concert reviews

**** '[In the Fourth Symphony] Gergiev and his players could revel in some of the most luscious orchestration ever set down on paper, working as one to press the piece steadily towards its vertiginous climax.'
The Guardian

**** 'I don't think I've seen [Gergiev] smile so much as during Poem of Ecstasy, a work he clearly loves and whose delicate and dance-like spirit he liberated.'
The Times

**** 'Wonderfully well-played by a full-strength LSO.'
The Arts Desk

'Gergiev and the LSO gave an impeccable account of Scriabin's Third Symphony, The Divine Poem (1902-4), acknowledging both its ambitious symphonic design and its mystical ability to paint pictures and transport the listener.'
Classical Source
£6.99
Valery Gergiev,
London Symphony Orchestra
---
Valery Gergiev conducts revelatory performances of Scriabin's Symphony No 3 'The Divine Poem' and Symphony No 4 'The Poem of Ecstasy'. This marks the first in a new cycle of Scriabin symphonies, and one of the most significant of all Valery Gergiev's projects with the London Symphony Orchestra, released during his final tenure as LSO Principal Conductor. Anyone with musical curiosity will welcome the chance to explore such an idiosyncratic composer.
Scriabin's Symphony No 3 was composed not long after the composer had arrived at a philosophy that exalted the individual ego and the senses. The piece, which has also been referred to as a tone poem in three movements, was Scriabin's attempt to give expression to the evolution of the human spirit. For Scriabin, the finale of his Third Symphony marked a significant moment in his development as a composer, and he wrote that 'this was the first time I found light in music… the first time I knew intoxication, flight, the breathlessness of happiness'.
It was whilst composing his Third Symphony that Scriabin began to look ahead to a Fourth and by 1906 he had published a poem which set out the 'philosophical programme' of the new work. The work's title refers to an artistic ecstasy, which is expressed in the music through a beautifully coloured sound-world and harmonic fluidity, culminating in the final section with the revelation of C major.
Valery Gergiev says of the composer; 'Scriabin is a Great Russian composer… He's clearly a composer with his own voice, from his own world. Scriabin came up with very much his own sonority and his ability to hear different colours was legendary. Scriabin should be today understood as a man who was able to create a wonderfully magical musical world, and we just have to give in. We have to be imprisoned by these compositions and the magical powers of the creator.'
---
Track list
1. Symphony No 3 'The Divine Poem
' I. Luttes
2. 
Symphony No 3 'The Divine Poem
' II. Voluptés
3. 
Symphony No 3 'The Divine Poem'
 III. Jeu divin
4. Symphony No 4 'The Poem of Ecstasy' 
---
| | | |
| --- | --- | --- |
| Composer |   | Scriabin |
| Conductor |   | Valery Gergiev |
| Performers |   | London Symphony Orchestra |
Related products