Turnage: Speranza & From the Wreckage [download]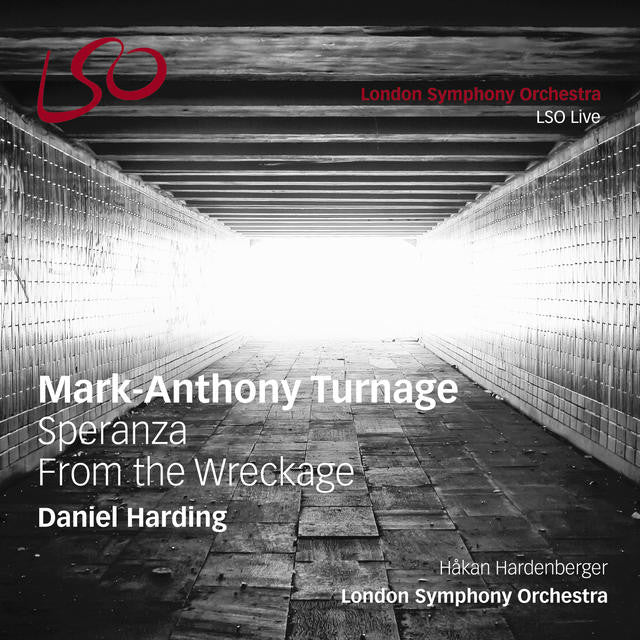 Catalogue Number LSO0744
UPC 822231174424


Nicholas Parker producer
Neil Hutchinson for Classic Sound Ltd balance engineer

Recorded live in 24bit 96kHz PCM at the Barbican, 5 & 7 February 2013


Download Formats

Stereo FLAC 24bit 96kHz
Stereo MP3 320 kbps

Notes in English / en français / auf Deutsch

Performance: ***** Recording: **** 'In Speranza, with its tangible message of enduring hope, we truly find heart as well as brilliance.'
BBC Music Magazine

Performance: ***** Recording: **** 'This searching account by Daniel Harding and the LSO of what is surely one of Turnage's finest works to date does the composer proud.'
Sa-cd.net

**** 'Turnage's orchestration is what colours this landscape. In Dochas he uses the oboe-like duduk, while the sombre, one-movement concerto moves to the light via the flugelhorn, trumpet and piccolo trumpet, insistent percussion representing both the heartbeat and the nervous jump.'
The Independent

**** 'This is a sombre hymn to hopelessness, leavened by wistful folk laments, a bleating Armenian duduk and Turnage's masterful orchestration.'
Financial Times

**** 'Orchestral playing and sound engineering are both excellent.'
Classical Ear

'A fine mix of consonant and challenging contemporary classical music which raises high hopes about Turnage.'
Auditorium

'The sound is arguably the finest to have come from LSO Live in recent years, having a lustre and depth that highlight both Turnage's orchestration and the LSO's realization of it to best advantage.'
International Record Review
£5.99
Daniel Harding
London Symphony Orchestra
---
LSO Live presents the world premiere recording of Mark-Anthony Turnage's large-scale orchestral work Speranza ('Hope'), a piece commissioned by the LSO as part of Turnage's residency with the orchestra in early 2013. Turnage is one of the most admired composers of his generation, and has long been associated with the London Symphony Orchestra. Daniel Harding appears in this his conducting debut for LSO Live.
Speranza is in many ways Turnage's most ambitious and symphonic composition for orchestra to date. The piece is a monument to the power of optimism in a bleak world – 'I started working on the piece while thinking about the absence of hope. I wanted to lift people up', says Turnage. Each of the four movements are titled 'Hope' in a different language; Arabic, German, Irish and Hebrew.
Speranza is coupled here with From the Wreckage, described by The Times as 'outstanding: the music begins hellishly but gradually picks up a bluesy swing…'. Premiered in 2005, the piece was written for Håkan Hardenberger who reprises the role of soloist for this release. The three internal sections of From the Wreckage are marked by the soloist's change of instrument – first flugelhorn, then trumpet, and finally piccolo trumpet.


Speranza is an LSO commission, generously supported by Susie Thomson.
---
| | | |
| --- | --- | --- |
| Composer |   | Turnage |
| Conductor |   | Daniel Harding |
| Performers |   | London Symphony Orchestra |
| Soloist |   | Håkan Hardenberger |
---
Track list
1. From the Wreckage
2. Speranza: I. Amal
3. Speranza: II. Hoffen
4. Speranza: III. Dóchas
5. Speranza: IV. Tikvah
Related products