Mendelssohn: Symphony No 5 'Reformation' [download]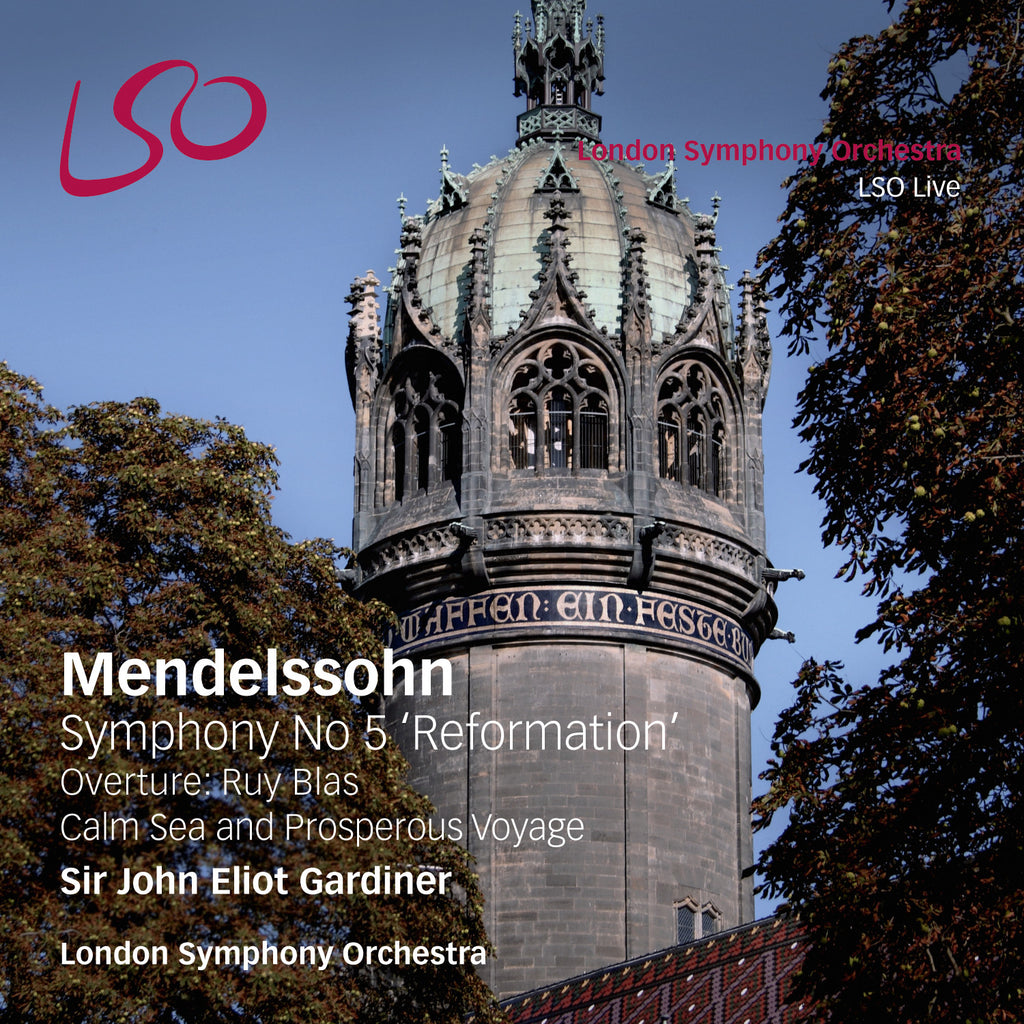 Catalogue Number LSO0775
UPC 822231177524


Nicholas Parker producer & editing
Classic Sound Ltd engineering, mixing & mastering

Recorded live at the Barbican, March & October 2014


DSD (direct stream digital) recording
Audio 2.0 Stereo and multi-channel (5.1)
Notes in English / en français / auf Deutsch

Classic FM Drive' Featured Album
'The memorable previous release in the series – Mendelssohn's Scottish Symphony – received widespread, positive acclaim… The winning approach is repeated here…Here, the 'authentic' vibrato-less strings combine with weighty brass and woodwinds to produce a performance that shows off the work's grandeur… The LSO are on top form.'

Performance **** Recording **** 'There's much to savour in Gardiner's urgently driven account of Ruy Blas, and the vibrato-less string passage that opens Calm Sea and Prosperous Voyage is simply spellbinding, reminding us of the wizardry and phenomenal aural imagination that is ever present in Mendelssohn's orchestration.'
BBC Music Magazine

**** 'John Eliot Gardiner with the LSO brings pace, clarity and flaming-eyed conviction to the performance… The overtures Ruy Blas and Calm Sea and Prosperous Voyage make well-contrasted fillers, the one blazing with drama, the other gliding in still as a mill pond.'
Financial Times

'Absolutely startling.'
Herald Scotland

'This is something close to the ideal Gardiner experience… Partnered by the London Symphony Orchestra at its most lithe and virtuosic, Gardiner makes [Mendelssohn] fizz with excitement.'
The Times

'A generally excellent recording.'
Gramophone

'The London Symphony performances, crisp and driving, are attractive and satisfying.'
New York Times

'Vibrant performances, very well played… This is some of the finest audio from the venue.'
Classical CD Review
£8.99
Sir John Eliot Gardiner, 
London Symphony Orchestra
---
Sir John Eliot Gardiner and the London Symphony Orchestra join forces once again in the latest instalment of their exploration of Mendelssohn's symphonies. 
Mendelssohn's Symphony No 5, commonly known as the 'Reformation' Symphony, was written in 1830 to commemorate the 300th anniversary of the Augsberg confession – a seminal event in the Protestant Reformation. Allusions to the symphony's title and inspiration can be heard throughout the music itself; the Dresden Amen is cited by the strings in the first movement whilst the finale is based on Martin Luther's well-known chorale Ein feste Burg ist unser Gott ('A Mighty Fortress is Our God').

Coupled with this are two of Mendelssohn's overtures, Calm Sea and Prosperous Voyage and Ruy Blas, both of which were inspired by literary works. Calm Sea and Prosperous Voyage, based on two short poems by Goethe, depicts the journey of sailors at sea with a still adagio opening ultimately giving way to a triumphant homecoming. Completing the album, the overture Ruy Blas was commissioned by the Leipzig Theatre as an overture to Victor Hugo's tragic drama of the same name.
---
| | | |
| --- | --- | --- |
| Composer |   | Mendelssohn |
| Conductor |   | Sir John Eliot Gardiner |
| Performers |   | London Symphony Orchestra |
---
Track list
1. Overture: Ruy Blas
2. Overture: Calm Sea and Prosperous Voyage
3. Symphony No 5, 'The Reformation': i. Andante - Allegro con fuoco
4. Symphony No 5, 'The Reformation': ii. Allegro vivace
5. Symphony No 5, 'The Reformation': iii. Andante
6. 
Symphony No 5, 'The Reformation': iv. Choral: Ein' feste Burg ist unser Gott: Andante con moto - Allegro vivace - Allegro maestoso
---
Related products